Joint USAF/NOAA Report of Solar and Geophysical Activity 10 Jan 2003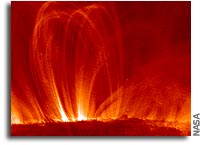 SDF Number 010 Issued at 2200Z on 10 Jan 2003
IA. Analysis of Solar Active Regions and Activity from 09/2100Z
to 10/2100Z: Solar activity has been low. Only C-class events were
observed through the period. Region 242 (S08W48) has shown a
decrease in area and sunspots but retains its beta gamma magnetic
configuration. Region 247 (S15E20) has maintained its area and spot
count and the magnetic configuration of the region became a beta
gamma configuration. Region 251 (S13E44) has an area of 340
millionths of white light with 12 spots and a beta configuration.
Two new regions were numbered today as Region 253 (N11W36) and 254
(S15E72).
IB. Solar Activity Forecast: Solar activity is expected to be low
to moderate. Isolated M-class events are possible from Region 242,
247, and 251.
IIA. Geophysical Activity Summary 09/2100Z to 10/2100Z:
The geomagnetic field has been quiet to unsettled.
IIB. Geophysical Activity Forecast: The geomagnetic field is
expected to remain quiet to unsettled for the next three days.
III. Event Probabilities 11 Jan-13 Jan
Class M 60/60/60
Class X 05/05/05
Proton 01/01/01
PCAF green
IV. Penticton 10.7 cm Flux
Observed 10 Jan 185
Predicted 11 Jan-13 Jan 190/195/200
90 Day Mean 10 Jan 164
V. Geomagnetic A Indices
Observed Afr/Ap 09 Jan 002/007
Estimated Afr/Ap 10 Jan 010/010
Predicted Afr/Ap 11 Jan-13 Jan 008/010-005/008-005/008
VI. Geomagnetic Activity Probabilities 11 Jan-13 Jan
A. Middle Latitudes
Active 20/15/15
Minor storm 05/05/05
Major-severe storm 01/01/01
B. High Latitudes
Active 30/20/20
Minor storm 10/05/05
Major-severe storm 01/01/01