Joint USAF/NOAA Report of Solar and Geophysical Activity 07 Feb 2003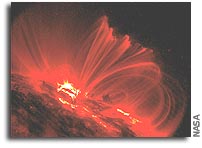 SDF Number 038 Issued at 2200Z on 07 Feb 2003
IA. Analysis of Solar Active Regions and Activity from 06/2100Z
to 07/2100Z: Solar activity was at low levels. The only significant
activity was a C1.0 long-duration event from Region 274 (S06W63) at
07/1628 UTC. Regions 276 (S13E00) and 278 (N18E40) acquired a gamma
magnetic structure during the period. Region 277 continues to be
active. Regions 282 (N12E35) and 283 (N01E52) were numbered today.
IB. Solar Activity Forecast: Solar activity is expected to be at
very low to low.
IIA. Geophysical Activity Summary 06/2100Z to 07/2100Z:
The geomagnetic field was at predominately quiet to unsettled levels.
High latitudes experienced an isolated active period from 07/1200
to 07/1500 UTC. Solar wind observation continued to show a high
speed stream associated with a subsiding coronal hole. The greater
than 2MeV electron flux at geosynchronous orbit reached high levels.
IIB. Geophysical Activity Forecast: The geomagnetic field is
expected to subside to and remain at mostly quiet with isolated
periods of unsettled levels due to the departure of the coronal
hole.
III. Event Probabilities 08 Feb-10 Feb
Class M 45/50/50
Class X 10/10/10
Proton 01/01/01
PCAF green
IV. Penticton 10.7 cm Flux
Observed 07 Feb 157
Predicted 08 Feb-10 Feb 160/165/170
90 Day Mean 07 Feb 153
V. Geomagnetic A Indices
Observed Afr/Ap 06 Feb 008/016
Estimated Afr/Ap 07 Feb 012/014
Predicted Afr/Ap 08 Feb-10 Feb 006/008-007/008-007/008
VI. Geomagnetic Activity Probabilities 08 Feb-10 Feb
A. Middle Latitudes
Active 25/25/25
Minor storm 05/05/05
Major-severe storm 01/01/01
B. High Latitudes
Active 45/45/45
Minor storm 25/25/25
Major-severe storm 05/05/05