Joint USAF/NOAA Report of Solar and Geophysical Activity 06 Feb 2003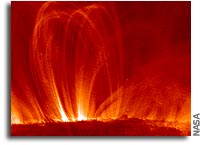 SDF Number 037 Issued at 2200Z on 06 Feb 2003
IA. Analysis of Solar Active Regions and Activity from 05/2100Z
to 06/2100Z: Solar activity was at low to moderate levels. An M1.2
at 06/0349 UTC from Region 278 (N18E64) was the only M-class
activity. There were several C-class flares, with a maximum of C3.4
at 06/0214 UTC from Region 277 (S17E55). Regions 276 (S15E22), 277, and
278 continue to show activity. Regions 280 (S08E29) and 281
(S14E73) were numbered today.
IB. Solar Activity Forecast: Solar activity is expected to be
mostly low with isolated M-class flare activity from Regions 276,
277, and 278 possible.
IIA. Geophysical Activity Summary 05/2100Z to 06/2100Z:
The geomagnetic field was mostly quiet to unsettled with an isolated
period of active levels during the past 24 hours. Solar wind
observation shows a continued high speed stream associated with a
coronal hole. The greater than 2MeV electron fluxes at
geosynchronous orbit have been at mostly high levels for the last 24
hours.
IIB. Geophysical Activity Forecast: For the forecast period, the
geomagnetic field is expected to remain mostly quiet to unsettled
with isolated periods of active levels due to a favorably positioned
coronal hole.
III. Event Probabilities 07 Feb-09 Feb
Class M 55/50/50
Class X 10/05/05
Proton 05/01/01
PCAF green
IV. Penticton 10.7 cm Flux
Observed 06 Feb 150
Predicted 07 Feb-09 Feb 155/160/165
90 Day Mean 06 Feb 153
V. Geomagnetic A Indices
Observed Afr/Ap 05 Feb 007/012
Estimated Afr/Ap 06 Feb 012/015
Predicted Afr/Ap 07 Feb-09 Feb 008/010-005/008-008/008
VI. Geomagnetic Activity Probabilities 07 Feb-09 Feb
A. Middle Latitudes
Active 35/30/30
Minor storm 15/10/10
Major-severe storm 01/01/01
B. High Latitudes
Active 40/35/35
Minor storm 15/15/15
Major-severe storm 05/05/05