Joint USAF/NOAA Report of Solar and Geophysical Activity 04 Feb 2003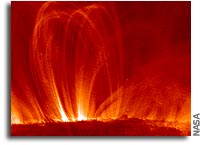 SDF Number 035 Issued at 2200Z on 04 Feb 2003
IA. Analysis of Solar Active Regions and Activity from 03/2100 UTC
to 04/2100 UTC: Solar activity was at low levels during the past 24 hours.
Region 278 (N20E81) produced the only C-flare, a C1.4 at 04/2016 UTC.
Region 276 (S13E45) continues to be the largest region on the disk
with an area of 260 millionths and fairly continuous point
brightenings. New regions 277 (S19E70) have produced several
B-class flares, and show continual activity.
IB. Solar Activity Forecast: Solar activity is expected to be
low to moderate. Regions 276, 277, and 278 have potential for M-class flare activity.
IIA. Geophysical Activity Summary 03/2100Z to 04/2100Z:
The geomagnetic field was at unsettled to active levels during the
past 24 hours. Solar wind observations show a continuation of
yesterday's enhanced flow associated with a coronal hole structure
in the northern hemisphere. Flow should return to nominal levels in
the next 24 hours. The greater than 2 MeV electron fluxes briefly
reached high levels during the past 24 hours.
IIB. Geophysical Activity Forecast: The geomagnetic field is
expected to be mostly unsettled tomorrow, with a chance for some
isolated active periods later in the day. An increase to active
levels is expected for the second day due to a favorably positioned
coronal hole.
III. Event Probabilities 05 Feb-07 Feb
Class M 35/40/40
Class X 05/05/05
Proton 01/01/01
PCAF green
IV. Penticton 10.7 cm Flux
Observed 04 Feb 135
Predicted 05 Feb-07 Feb 140/145/145
90 Day Mean 04 Feb 154
V. Geomagnetic A Indices
Observed Afr/Ap 03 Feb 016/019
Estimated Afr/Ap 04 Feb 017/024
Predicted Afr/Ap 05 Feb-07 Feb 015/020-015/015-010/010
VI. Geomagnetic Activity Probabilities 05 Feb-07 Feb
A. Middle Latitudes
Active 30/30/25
Minor storm 20/20/15
Major-severe storm 05/05/05
B. High Latitudes
Active 40/30/25
Minor storm 20/20/15
Major-severe storm 05/05/05