Joint USAF/NOAA Report of Solar and Geophysical Activity 03 Nov 2005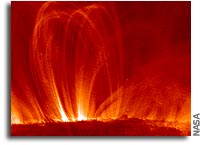 Prepared jointly by the U.S. Dept. of Commerce, NOAA,
Space Environment Center and the U.S. Air Force. Updated 2005 Nov 03 2204 UTC
Joint USAF/NOAA Report of Solar and Geophysical Activity
SDF Number 307 Issued at 2200Z on 03 Nov 2005
IA. Analysis of Solar Active Regions and Activity from 02/2100Z to 03/2100Z: Solar activity was at very low levels again today. Region 819 (S09W14) was the source for two B-class events including a B9 x-ray flare that occurred at 03/0446Z. This region is down to a single AXX alpha spot. Region 818 (S08W08) became magnetically more complex although there are fewer sunspots visible than were observed yesterday. No new regions were numbered today.
IB. Solar Activity Forecast: Solar activity is expected to continue at very low levels.
IIA. Geophysical Activity Summary 02/2100Z to 03/2100Z: The geomagnetic field ranged from unsettled to minor storm levels. A high speed coronal hole stream is responsible for the elevated conditions. The solar wind speed has exceeded 600 km/sec throughout most of the period.
IIB. Geophysical Activity Forecast: The geomagnetic field is expected to be at predominantly unsettled to active levels. The geoeffective coronal hole could lead to periods of isolated minor storm conditions on 03 and 04 November. A return to quiet to unsettled levels is expected on 05 November.
III. Event Probabilities 04 Nov-06 Nov
Class M 01/01/01
Class X 01/01/01
Proton 01/01/01
PCAF green
IV. Penticton 10.7 cm Flux
Observed 03 Nov 077
Predicted 04 Nov-06 Nov 075/075/080
90 Day Mean 03 Nov 085
V. Geomagnetic A Indices
Observed Afr/Ap 02 Nov 005/006
Estimated Afr/Ap 03 Nov 017/020
Predicted Afr/Ap 04 Nov-06 Nov 020/020-015/020-010/012
VI. Geomagnetic Activity Probabilities 04 Nov-06 Nov
A. Middle Latitudes
Active 35/30/20
Minor storm 20/10/10
Major-severe storm 10/05/05
B. High Latitudes
Active 35/35/25
Minor storm 25/20/15
Major-severe storm 10/10/05