ISS Status Report #39 Aug. 30, 2002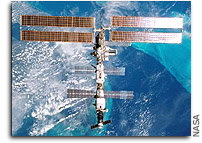 Work on the International Space Station this week started out with a
spacewalk, moved back inside with extensive laboratory research work, and
wound up with a series of maintenance tasks before the Expedition 5 crew
began a long holiday weekend.
Commander Valery Korzun and Flight Engineer Sergei Treschev completed a
5-hour,
21-minute spacewalk Monday morning, swapping out Japanese space exposure
experiments and a Russian experiment measuring jet thruster residue on the
shell of the Zvezda Service Module. Flight Engineer Peggy Whitson kept
everything running smoothly and helped coordinate her crewmates' activities
from inside. She also helped take post-spacewalk readings on how her
crewmates' lungs were functioning after working in the lowered pressure of
their spacesuits, part of an ongoing study.
Then research took center stage again as Whitson cleaned up the Microgravity
Science Glovebox and prepared it to resume experiments studying
semiconductor formation in space. After a recent fifth experiment run, a
quartz sample tube broke inside the glovebox enclosure. Whitson used a
vacuum tube and fan system to remove and secure any particles left inside
the box.
Whitson also downlinked a video tour of the U.S. Destiny laboratory module
for NASA's Marshall Space Flight Center, where station research is
coordinated by the Payload Operations Control Center. Whitson highlighted
some of the two dozen experiments that she and her crewmates have been
conducting during their first three months in orbit. Thirteen of the 24
phone booth-sized racks inside Destiny are dedicated to science
investigations including a wide variety of experiments in human life
sciences, physical sciences, commercial space product development and Earth
observation, as well as education and technology demonstrations.
Friday, Whitson worked in the Quest airlock module, servicing the American
spacesuits and recharging their batteries to prepare for upcoming tests next
week. She also partially removed the Express 2 experiment rack in Destiny to
gain access and replace a balky smoke detector before the crew began a
three-day break over the Labor Day holiday.
Information on the crew's activities aboard the space station, future launch
dates, as well as station sighting opportunities from anywhere on the Earth,
is available on the Internet at:
Details on station science operations can be found on an Internet site
administered by the Payload Operations Center at NASA's Marshall Space
Flight Center in Huntsville, Ala., at:
http://www.scipoc.msfc.nasa.gov
The next ISS status report will be issued on Friday, Sept. 6, or sooner, if
events warrant.