ISS Status Report #37 23 Aug 2002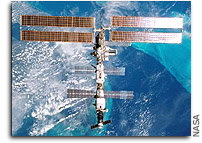 The Expedition Five crew spent a large portion of its week preparing for the next scheduled spacewalk. Commander Valery Korzun and Flight Engineer Sergei Treschev plan to leave the Pirs Docking Compartment of the International Space Station around 12:00 a..m. Central time (0500 GMT) Monday, Aug. 26, to begin a six-hour spacewalk. While Korzun and Treschev work outside, Flight Engineer Peggy Whitson will tend to space station systems and assist the spacewalkers as necessary. She will also maneuver the Canadarm2 to provide camera views of the cosmonauts for the two mission control centers.
Whitson completed the first spacewalk of her career last Friday with Korzun, spending four hours and 25 minutes outside the orbiting laboratory. Monday's spacewalk will be Korzun's fourth and Treschev's first.
Korzun and Treschev have a variety of tasks to complete Monday morning, including attaching hardware to the exterior of the Zarya module that will be used for tethers and other equipment during future spacewalks; replacing Japanese materials experiment panels on Zvezda, which measure the effects of atomic oxygen in low Earth orbit and collect small pieces of space debris; attaching new plates for the Russian Kromka experiment, which are used to collect and study the residue emitted by Zvezda's jet thrusters; and installing two additional amateur radio antennas on Zvezda to improve contacts with ham radio operators on Earth. The two spacewalkers will also photograph each of these activities for engineers on the ground.
In preparation for Monday's spacewalk, Korzun and Treschev took part in an experiment called PuFF that is being used to look for any changes in crewmembers' lungs that may occur during a long-duration spaceflight. The two cosmonauts tested their lungs Friday using equipment in the Human Research Facility Rack and will test them again after the spacewalk.
Information on the crew's activities aboard the space station, future launch dates, as well as station sighting opportunities from anywhere on the Earth, is available on the Internet at:
Details on station science operations can be found on an Internet site administered by the Payload Operations Center at NASA's Marshall Space Flight Center in Huntsville, Ala., at:
The next ISS status report will be issued on Monday, Aug. 26, after the next station spacewalk, or sooner, if events warrant.