ISS Status Report #32 July 19, 2002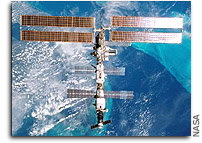 Expedition 5 crewmembers, Commander Valery Korzun, Astronaut Peggy Whitson
and Cosmonaut Sergei Treschev, wrapped up a busy week of successful science
and maintenance work, a week that saw completion of one major repair task on
the environmental control system of the International Space Station.
Korzun and Whitson worked together for four hours on Monday and another four
hours on Tuesday to replace the Desiccant/Sorbent Bed Assembly of the Carbon
Dioxide Removal Assembly (CDRA) in the U.S. laboratory Destiny. There are
two such beds in CDRA. The one replaced had not functioned properly since
its launch in Destiny on Discovery's STS-98 mission in February 2001 because
a valve between the desiccant and sorbent sides had stuck in the open
position. The second bed continued to function, and a carbon dioxide
scrubber in the Russian segment also was available.
Whitson and Korzun overcame or worked around a series of minor difficulties
during the removal and replacement. Engineers and flight controllers on the
ground are reactivating the Atmosphere Revitalization Rack where the CDRA is
situated. The CDRA will be turned on next Tuesday and operated for several
days to verify the success of the replacement.
Crewmembers performed an emergency medical operations drill on Wednesday,
designed to keep them sharp in emergency medical procedures and to ensure
that equipment is optimally stowed and available.
Whitson also worked with a balky spacesuit battery recharger. Her inputs
were valuable to engineers on the ground and flight controllers who devised
procedures that should fix the problem, the failure of a battery in the
device to discharge before receiving a new charge. She also regenerated one
of the spacesuit Metox carbon dioxide removal canisters.
Scientific experiments performed by the crew included work with the
Microencapsulation Electrostatic Processing experiment, enclosing a drug or
drugs in microballoons. Crewmembers also tended the Advanced Astroculture
experiment, which grows soybeans in space with an eye to improving their
oil, protein or carbohydrate content. The Microgravity Science Glovebox was
used in the Solidification Using a Baffle In Sealed Ampoules experiment,
designed to understand the motion in melted fluids to improve
semiconductors.
All three crewmembers participated on Tuesday in an Educational Outreach
project called Toys in Space. They operated toys, among them a boomerang, a
jump rope and marbles, to demonstrate scientific principles. The
demonstrations were in conjunction with questions from children at the
Houston Museum of Natural Science and the American Museum of Natural History
in New York City.
Russian officials have decided to perform a reboost of the International
Space Station on Aug. 1, to put it at an optimal altitude for arrival of the
next Progress unpiloted Russian supply spacecraft, and the next Soyuz crew
return vehicle this fall.
Information on the crew's activities aboard the space station, future launch
dates, as well as station sighting opportunities from anywhere on the Earth,
is available on the Internet at:
Details on station science operations can be found on an Internet site
administered by the Payload Operations Center at NASA's Marshall Space
Flight Center in Huntsville, Ala., at:
http://www.scipoc.msfc.nasa.gov
The next ISS status report will be issued on Friday, July 26, or sooner if
events warrant.