ISS Status Report #29 – June 29, 2002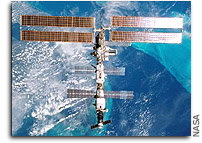 A Russian Progress resupply craft docked to the International Space Station early today, three days after its launch from the Baikonur Cosmodrome in Kazakhstan. Aboard the unpiloted Progress 8 are food, fuel and supplies for the space station and its Expedition 5 crew.
The Progress docked to the aft port of the station's Zvezda Service Module at 1:23 a.m. CDT as the two spacecraft orbited about 240 statute miles above Central Asia. Shortly after first contact, hooks and latches engaged between the Progress and Zvezda to lock the two together.
Expedition 5 crewmembers, Commander Valery Korzun, Astronaut Peggy Whitson and Cosmonaut Sergei Treschev, will do leak checks between the Progress and Zvezda before opening hatches at about 4:30 a.m. to gain access to the newly arrived vehicle. The crew will unload its cargo during the coming days.
Progress 8 replaces the Progress 7 cargo carrier at the space station. Progress 7 was undocked early Tuesday and deorbited later that morning. It burned in the Earth's atmosphere with its load of trash from the ISS.
This week, the crew continued to settle into its new home and conduct scientific experiments. Whitson and Treschev worked to activate the Zeolite Crystal Growth Furnace, and Korzun and Whitson performed their first of several monthly sessions with the Pulmonary Function experiment to test their lung capabilities while living in a microgravity environment. Whitson took the first samples from the Advanced Astroculture soybean plant growth experiment.
Information on the crew's activities aboard the space station, future launch dates, as well as station sighting opportunities from anywhere on the Earth, is available on the Internet at:
Details on station science operations can be found on an Internet site administered by the Payload Operations Center at NASA's Marshall Space Flight Center in Huntsville, Ala., at:
http://www.scipoc.msfc.nasa.gov
The next ISS status report will be issued on Friday, July 5, or sooner if events warrant.