ISS Science Operations Status Report for week ending 12-13-02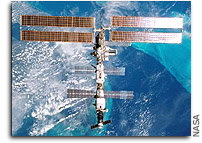 The Space Station crew this week began preparations for the first Zeolite Crystal Growth (ZCG) experiments of Expedition Six.
Expedition Six Commander Ken Bowersox installed the zeolite sample tubes in the ZCG furnace in EXPRESS Rack 2 on Monday in preparation for a series of checkout tests this week with the rack's Active Rack Isolation System (ARIS) vibration dampening system.  After those tests, Bowersox on Monday, Dec. 16, will use a Space Station drill to stir zeolite liquids in clear sample tubes as a precursor to the actual sample test run on Dec. 17.  Bowersox will rely on the precursor samples to tell ground controllers how much mixing is required for the actual zeolite samples (enclosed in opaque sample tubes) prior to processing in the ZCG furnace.  The operational sample run will last for 15 days.
The three-dimensional structure of a zeolite crystal allows it to act as a sieve to selectively filter certain chemicals. Zeolites have many commercial applications as catalysts and absorbents.   The Space Station's microgravity environment allows researchers to grow higher-quality crystals, which may increase the potential uses for zeolites.  Currently used extensively in petroleum refining, zeolites in the future could be used for storing hydrogen fuel or applied to detergents, optical cables, gas and vapor detection for environmental monitoring, and chemical production that reduces hazardous byproducts.
The crew completed installing new control software on the Human Research Facility Rack 1on Dec. 6. 
All three crewmembers completed their first data and sample collections with the Renal Stone experiment on Dec. 4-8.  This experiment is designed to test potassium citrate as a possible countermeasure to the increased risk of kidney stones during space missions.  The experiment requires the crew to collect urine samples and carefully log their diet, exercise and other variables.
On Tuesday, all three crewmembers performed their first data collection session for the Pulmonary Function in Flight (PuFF) experiment.  PuFF sessions will be conducted monthly while the crew is on-orbit and both before and after spacewalks.  The PuFF experiment, which consists of several breathing tests, examines the effect of long-term exposure to microgravity and spacewalks on pulmonary function.
The Protein Crystal Growth Single Thermal Enclosure (PCG-STES) unit 10 experiment was ferried to the orbiting lab last week by Space Shuttle Endeavour.  A frequent flyer appearing on Space Station Expeditions 2, 4 and 5, this experiment is designed to extend crystallographic analyses to more complex and challenging protein systems that require detailed knowledge of the three-dimensional structure of the molecules.  During this expedition, the experiment contains a collaborative activity between NASA and the Oak Ridge National Laboratory to better understand a key building block (nucleosome core particle) in the packaging of DNA in humans and other higher life forms.
Crew Earth Observation photography subjects for this week included: air quality over industrialized Southeastern Africa; urban development and water conditions in Dar es Salaam, Tanzania; dust plumes streaming from the African desert over the Mediterranean in Khartoum, Sudan; roads and infrastructure in Rio de Janeiro, Brazil; sediments in the Amazon River Basin; and urban development in Caracas, Venezuela.
Experiments completed during Expedition Five and returned on STS-113, including protein crystals and zeolite samples were quickly unloaded from Space Shuttle Endeavor following landing at NASA's Kennedy Space Center and are back in the hands of scientists waiting to analyze the results.
The Power Distribution and Conversion (PDC) box and one of the Exchangeable Standard Electronic Modules (ESEM3) were removed from the Microgravity Science Glovebox on-orbit and brought back on STS-113.  The European Space Agency (ESA) retrieved these parts at Kennedy Space Center upon landing and flew them back to Europe for troubleshooting. The Glovebox experienced a power loss on Nov. 20.  Determination of the cause of the anomaly will be made by ESA. Ultimately, the Glovebox will be repaired on-orbit.
The Payload Operations Center at NASA's Marshall Space Flight Center in Huntsville, Ala., manages all science research experiment operations aboard the International Space Station.  The center is also home for coordination of the mission-planning work of a variety of international sources, all science payload deliveries and retrieval, and payload training and payload safety programs for the Station crew and all ground personnel.