ISS Science Operations Status Report 05-15-02 (for week ending 05-15-02)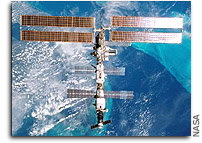 Space Station experiment vibration dampener transfers operations to Marshall's Payload Operations Center
The Active Rack Isolation System moved toward becoming a routine operational part of the International Space Station this week, as control centers in Houston and Seattle transferred operations of the experiment vibration dampener to the Payload Operations Center in Huntsville. Station crewmembers continued Earth photography, including recent fires in Central America. Space Station experiments and payload operations are managed by the Marshall Center.
The Active Rack Isolation System (ARIS) moved toward becoming
a routine operational part of the Space Station this week as control
centers in Houston and Seattle transferred operations to the Payload
Operations Center in Huntsville.
ARIS, designed to make the Station an even better place to conduct
microgravity research by damping out tiny vibrations caused by crew
movement or operating equipment, has been undergoing testing for more
than a year. Located in EXPRESS Rack 2 in the Destiny lab module, ARIS
uses eight actuators and pushrods to "float" the rack within the lab
and react against vibrations as they occur. Over the past month, it
got its first operational run to support the Zeolite Crystal Growth
(ZCG) experiment. ZCG completed a 14-day experiment run last week.
Hardware used to test ARIS will be returned on the upcoming UF-2 Space
Shuttle mission.
"We are now in Huntsville running ARIS initial checkout tests in its
standard configuration," said Naveed Quraishi, manager of the ARIS
ISS Characterization Experiment at NASA's Johnson Space Center in
Houston. "ARIS isolation performance has so far been excellent in part
due to its newly developed "vibration free" power umbilicals. The entire
test team would like to thank the crew for all their hard work and exceptional
efforts that have made ARIS testing so successful."
Members of the ARIS-ICE science team are at Marshall Center this week
supporting tests that will transfer operations to the Payload Operations
Center from NASA and Boeing Company control centers in Houston and Seattle.
Boeing developed and built ARIS. Tests are under way by the Payload
Rack Officer at the Operations Center to complete the checkout of ARIS
operations.
The crew collected gas samples on Biomass Production System (BPS)
chambers 2 and 4 and swapped root modules in chambers 2 and 4 on
Friday, May 10 To maximize the science obtained from BPS, the wheat
samples were moved from a chamber with inoperable humidity control to
a chamber with good humidity control. Brassica rapa plants were
moved to the other chamber because they are not as sensitive to high
humidity. After a couple days with controlled humidity, the wheat plants
began to recover and have begun to provide valuable information about
how plants recover from undesirable conditions in microgravity. Flight
Engineer Dan Bursch then harvested Brassica plant samples and
collected water samples from the plant growth chamber. And he also conducted
maintenance by priming the growth modules of the BPS experiment by ensuring
that all air was out of water lines used to feed the plants
The crew completed the Zeolite Crystal Growth experiment last
week on Friday by unloading samples and shooting documentary video last
weekend.
Bursch and Flight Engineer Carl Walz conducted their data collection
for the Renal Stone experiment on Monday. The Renal Stone experiment
is now complete for Expedition Four.
On Tuesday, the crew conducted pre-spacewalk readings on the EVA
Radiation Monitoring experiment badges. All three crewmembers
filled out their Crew Interactions surveys.
Crew Earth Observations (CEO) photography targets for
the week include Saharan dust being carried over the Eastern Mediterranean
Sea, the Toshka Lakes region around Egypt, Western Mediterranean dust
and smog over Italy, geological features around Tanzania, fires in Angola
and industrialized Southeast Africa, the Salton Sea in Southern California,
and the Parana River wetlands in South America.
Editor's Note: The Payload Operations Center at NASA's
Marshall Space Flight Center in Huntsville, Ala., manages all science
research experiment operations aboard the International Space Station.
The center is also home for coordination of the mission-planning
work of a variety of international sources, all science payload deliveries
and retrieval, and payload training and payload safety programs for
the Station crew and all ground personnel.