ISS On-Orbit Status 5 Feb 2003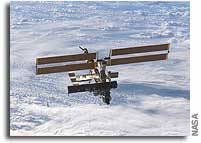 All ISS systems continue to function nominally, except as noted previously or below.  Day 74 in space for the Expedition 6 crew.
After wake-up (1:00am EST), the crew began unloading Progress 10P/M-47, after CDR Ken Bowersox and FE-1 Nikolai Budarin had removed the probe-and-cone docking mechanism (StM) of the cargo vehicle's docking and internal transfer system (SSVP).  The unloading is accompanied by careful inventory auditing for the IMS (inventory management system).
Among the first items removed from Progress were the MSG (microgravity science glovebox) parts, the PDC (power distribution controller) and ESEM3 (exchangeable standard electronic module 3).  FE-2/SO Don Pettit began with their installation in the MSG rack, which was video-taped for the record.  Subsequent steps were establishment of rack cooling flow and power-up, followed by nominal MSG activation.  This resulted in a circuit breaker trip, after which further activity was put on hold, pending investigation.  MSG is powered down
 
10P also delivered new books with crew procedures covering changes of existing ODFs (operations data files).  [Bowersox had about 1.5 hrs scheduled today to transfer and insert the approx. 450 pages into the appropriate on-board books.  CD-ROMs with the changes are scheduled to arrive with the next Soyuz flight in April.]
Nikolai Budarin transferred two newly arrived GCF-N payload units (Granada Crystallization Facility 02 or "N") from Progress 10P and installed it in the SM.  The payload will be used for experiments with counterdiffusion crystallization of biological macromolecules.  [The installation/stowage was photo documented with the Nikon D1 and the images were saved from the Compact Flash card to a laptop.  Operations with the GCF are to be performed with personal protection gear: respirator, goggles, and surgical gloves.  A previous GCF payload, delivered by 9P and later returned to Earth, was used by ESA guest cosmonaut Frank De Winne.]
Budarin also performed the regular daily checkup of the BIO-5 Rasteniya-2/Lada-2 ("Plants-2") plant growth experiment.
In the SM, Budarin changed out the CO2 filter unit (BF) in the IK0501 gas analyzer, an automated system for measuring CO2, O2, and H2O in the air, as well as the flow rate of the gas being analyzed.
Bowersox tore down the TV routing connections to the USOS (U.S. segment) used yesterday to cover Progress approach and docking with U.S. Ku-band assets.
Don Pettit again took two carbon dioxide (CO2) readings in the SM and Lab with the U.S. CDMK (CO2 monitoring kit).
Bowersox performed the regular daily maintenance of the SOSh life support system and conducted the daily Lab payload status checkup.  After the consumables audit (see following item), he also performed data entry in the IMS and prepared the daily update file for downlink to the IMS database.
As part of the intense ISS replanning efforts underway at MCC-M due to the current Shuttle stand-down contingency, the crew had an hour scheduled today for taking a careful audit of all onboard consumables (food, water, personal hygiene, etc.).  The data will be assessed against actual usage rates to determine precisely what we need to fly up on Progress 11P in June (6/8).  [This effort is similar to what was done for 10P last Saturday, 2/1.]
Current consumable complement on board is sufficient through June '03.  The limiting item is water (must be "pasteurized" for drinking), which depends on recovery of the Russian SRV-K water processing system to full operability.  Removal and replacement (R&R) of the CFU (condensate feed unit) with the new unit delivered by 10P is scheduled for 2/9.  If the CFU R&R is successful, 20 liters of U.S. water from the Lab condensate tank will be transferred to a CWC (contingency water container) on 2/10 for SRV-K processing.
If the R&R is unsuccessful, overboard dumping becomes necessary but will be done as late as possible.  Every attempt will be made not to waste water, but storage is limited (have only three CWCs on board).  Moscow has offered to store water in one of the two Rodnik water system tanks. Rodnik has been used to contain "silver water" (water treated with silver iodine) and urine.
Also being worked is the need to re-establish IMV (intermodular ventilation) between the USOS and RS, which currently is not working.  Proper atmospheric circulation between the modules is required for control of ppCO2 (CO2 partial pressure), humidity, temperature, thus: condensation).
The CDRA (CO2 removal assembly) in the Lab was activated yesterday to support crew exercise.  [In order to limit CDRA usage, for conservation of lifetime and to minimize the necessary resetting of the ITCS LTL (internal thermal control system/low temperature loop) temperature setpoint, operation of Vozdukh is being reviewed for alternate manual mode instead of the current automatic mode, since the latter is controlled by the suspect SM gas analyzer.  Adjustment of the U.S. CCAA (common cabin air assembly) is also being studied to help with the IMV issue, but CCAA works different than the Russian SKV air conditioner with respect to humidity control.]
Another issue under intense study, due to the Shuttle stand-down, is ISS altitude strategy.  [Reboosts are Russian responsibility.  MCC-M will do reboost with  Progress 10P "as soon as possible and as high as possible", and MCC-H has waived the Shuttle-imposed altitude limit of 370 km.  The burn maneuver is planned for mid-February (2/10), with a delta-V of ~15 m/sec.  Reboost cannot be done later than 2/13 since ISS can't stay in current LVLH attitude beyond that date but must maneuver to XPOP (else not enough power from solar arrays).  An additional reboost may follow in April (delta V ~3 m/sec), if required to adjust orbital phasing angle for Soyuz 5S reentry (5S) and Soyuz 6S launch in April (4/26).  For 6S docking on 4/28, desired altitude is 400 km (alternate: 398 km), but that will lastly depend on actual upmass specified for 6S.  If no additional reboost after that, ISS will reach Shuttle docking altitude by 9/1.  If no Shuttle by that time, will again reboost as much as required.  If Shuttle flies in early Summer, we may require some retrograde deboost (lowering altitude), but that would be a small price to pay.]
CMG-2 (control moment gyroscope #2) has exhibited several temperature spike indications.  While these have been seen before, their frequency has picked up.  Ops specialists do not believe that we have a problem.  [Currently, there are three CMGs working, and the station can live on 2 CMGs if necessary.]
Progress 10P docking yesterday went well.  Hatches were opened on time, right after the STS-107 ceremony at JSC.   [During approach and docking, MCC-M/TsUP encountered two technical problems: (a) Docking was to be executed on Kurs antenna #2, but Progress autopilot kept switching to antenna #1 which had been under suspicion.  Therefore, the latter was used at begin and end of the docking sequence, and it worked without problems, neither at far distance nor during prox ops; (b) one Progress control thruster (yaw) sent an off-nominal signal, after which the computer switched to the #1 thruster manifold for the docking.  Issue is under investigation.]
 
Today's targets for the CEO (crew earth observations program) were Red Basin, Sechuan, China (Dynamic event.  A major break in the weather has produced the best viewing of inland China this winter.  The circular Red Basin  is the center of China's largest province with 115 million people, most of whom live in the basin. With major industrial cities and open fires for cooking, air quality is significantly degraded under high pressure conditions. The basin has the longest continuous record of air clarity measurements [skyward-looking radiometers] on Earth [since the 1940s].  Any views of the region, clear or with smog buildup, are of interest to US scientists), Beijing, China (nadir pass; ESC [electronic camera system].  Trying to get the entire urban region in one or two views), Delhi, India (nadir pass; ESC.  The city lies on both banks of the Yamuna River.  Atmospheric haze appears to be returning in the Ganges basinlooking right for oblique views), Rift Valley lakes, east Africa (Dynamic event.  For a few weeks a year, equatorial Africa experiences low cloud cover.  Look right of track for glint/near glint views of: Lake Tanganyika [geological structures], then Lake Victoria [coastlines], then Lake Turkana [coastline, esp. Omo River delta at the north end].  The delta is a permanent Earth Obs monitoring site since it fluctuates in size significantly as lake levels change.  [Past handheld imagery shows that Lake Turkana rises quickly during El Nino events, whereas the Nile River immediately north experiences below-normal flow, an inconsistency that is not yet understood.  It would be very interesting to test the response of the Lake Turkana coastline under the present El Nino with your imagery.]), Addis Ababa, Ethiopia (nadir pass; ESC), Tashkent, Uzbekistan (just left of track, this capital city [and most other central Asian cities] lies on the wetter lower slopes of the Tien Shan Mts., in what is otherwise an arid part of the world), Sabancaya landslide, Peru (nadir pass.  This hazard site is difficult to see, but a mapping swath for 30 secs under track will capture it), Panama (Dynamic event.  Request for panoramic views [obliques left and right] and then detailed nadir views of this poorly photographed region), and El Paso, Texas (nadir pass; ESC).
CEO images can be viewed at the website
http://eol.jsc.nasa.gov
U.S. and Russian Segment Status (as of 1:50pm EST).
Environmental Control and Life Support (ECLSS) and Thermal Control (TCS):
Elektron O2 generator is powered On (32 Amp mode).  Vozdukh CO2 scrubber is On (auto mode).  U.S. CDRA CO2 scrubber is Off.  TCCS (trace contaminant control subsystem) is operating.  MCA (major constituents analyzer) is operating.  BMP Harmful Impurities unit: Absorbent bed #1 in Purify mode, bed #2 in Purify mode.  RS air conditioner SKV-1 is On; SKV-2 is Off.

SM Working Compartment:  Pressure (mmHg) — 753; temperature (deg C) — 27.2; ppO2 (mmHg) — 160.5; ppCO2 (mmHg) — 1.7 (suspect).
SM Transfer Compartment:  Pressure (mmHg) — 751; temperature (deg C) — 20.2.
FGB Cabin:  Pressure (mmHg) — 752; temperature (deg C) — 20.7.
Node:  Pressure (mmHg) — 741.98; temperature (deg C) — 22.5 (shell); ppO2 (mmHg) — n/a; ppCO2 (mmHg) — n/a.
U.S. Lab:  Pressure (mmHg) — 743.81; temperature (deg C) — 22.9; ppO2 (mmHg) — n/a; ppCO2 (mmHg) — n/a;
Joint Airlock (Equip. Lock):  Pressure (mmHg) — 743.81; temperature (deg C) — 20.7; shell heater temp (deg C) — 21.4, ppO2 (mmHg) — 164.7; ppCO2 (mmHg) — 4.0.
PMA-1:  Shell heater temp (deg C) — 22.1
PMA-2:  Shell heater temp (deg C) — 18.7
(n/a = data not available)
Propulsion System (PS): 
Total propellant load available [SM(820) + FGB(2898) + Progress(0)] — 3718 kg (8197 lb) as of 1/30/03.  (Capability: SM — 860 kg; FGB — 6120 kg).
Electrical Power Systems (EPS):
Both P6 channels fully operational.  Beta Gimbal Assembly (BGA) 2B and 4B both in "blind" dual-angle mode (directed position).
SM batteries:  Battery #7 is off line (failed); all other batteries (7) are in "Full Charge" mode.
FGB batteries:  Battery #1 is off line; battery #5 is in "Cycle mode"; all other batteries (4) are in "Partial Charge" mode.
Plasma Contactor Unit PCU-1 and PCU-2 both in Standby mode.
Command & Data Handling Systems:
C&C-2 MDM is prime, C&C-3 is back-up, and C&C-1 is in standby.
GNC-1 MDM is prime; GNC-2 is Backup.
EXT-1 is On (primary), EXT-2 is off.
LA-1, LA-2 and LA-3 MDMs are all operating.
PL-2 MDM is On (primary); PL-1 MDM is off (diagnostic
APS-1 (automated payload switch #1) and APS-2 are both On.
SM Terminal Computer (TVM): 2 redundant lanes (of 3) operational. Lane 1 is out of the set (as of 11/14/02).
SM Central Computer (TsVM): 3 redundant lanes (of 3) operational.
Attitude Source:
3 CMGs on-line (CMG-1 failed).
State vector — U.S. SIGI-1 (GPS)
Attitude — U.S. SIGI-1 (GPS)
Angular rates — U.S. RGA-1
Flight Attitude:
LVLH TEA (local vertical/local horizontal = "earth-fixed": z-axis in local vertical, x-axis in velocity vector [yaw: -10 deg, pitch: -9.1 deg, roll: 0 deg]), CMG/TA (thruster assist) momentum management).
Solar Beta Angle:  -7.7 deg (magnitude increasing).
Communications & Tracking Systems:
FGB MDM-1 is powered Off; FGB MDM-2 is operational.
All other Russian communications & tracking systems are nominal.
S-band is operating nominally.
Ku-band is operating nominally.
Audio subsystem operating nominally.
Video subsystem operating nominally, but VTR1 is off.
HCOR (high-rate communications outage recorder) is operating nominally.
Robotics:
SSRMS/Canadarm2 based at MBS PDGF2 with Keep Alive (KA) power on both strings.
MBS: KA power on both strings. 
MT: latched at WS4, with KA power. 
POA: KA power on both strings.
RWS (robotics workstations): Lab RWS is Off; Cupola RWS is Off.