ISS On-Orbit Status 4 Feb 2003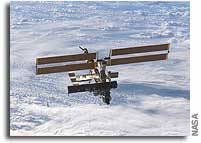 All ISS systems continue to function nominally, except as noted previously or below.  
At 1:00pm EST today, the station residents had an hour set aside on their schedule for the memorial service for the fallen Columbia heroes. Attended by President and Mrs. George W. Bush and NASA Administrator Sean O'Keefe, the ceremony for NASA astronauts Rick Husband, William McCool, Michael Anderson, Kalpana Chawla, David Brown, Laurel Clark, and Israeli astronaut Ilan Ramon was held at 1 p.m. EST in the Central Mall area behind JSC's Building One in Houston, TX.
"We are shocked by the Columbia catastrophe and would like to express our heartfelt condolences to NASA.  The loss of the astronauts is a tragedy not only for their relatives and friends, but is also a greater loss for cosmonautics worldwide and, primarily, the manned spaceflight program.  We hope that the political leaders of the United States will accept assistance from Russia in order to continue the ISS program.  In such situations, courage and wisdom must be shown not by cosmonauts or astronauts, but by the leaders of nations. Best regards to the whole team, B. Chertok."   (Message from Academician Boris Evseyevich Chertok in Moscow, formerly a Deputy and close associate of Chief Designer Sergei P. Korolev, the brain and driving force behind the Soviet Moon Program, space stations up to and including Mir, and today's Soyuz rocket and Soyuz/Progress spacecraft on which the ISS depends).
Earlier today, at 9:49am EST, the Russian cargo ship Progress 10P docked smoothly at the ISS/Service Module (SM) aft end.  [The Kurs-P system aboard the SM was activated at 8:05am and SM arrival mode enabled at 9:38am, with SM solar arrays feathered and FGB arrays set at directed position.  Since the U.S. arrays (2B and 4B) were also first at directed ("blind") positions to minimize Kurs blockage, then feathered during docking, reducing power output, shell heaters in the Node and Lab were powered down temporarily.  Also powered down was the SNT-22 US-to-Russian segment voltage and current stabilizer unit (transformer), carrying ~1.9 kW.  USOS arrays went back to autotrack at 10:10am, both the Russian and the U.S. segment were powered up again, and the 2B and 4B arrays then returned to dual-angle mode.]
Background: The unmanned Progress is similar to the manned Soyuz spacecraft, but has a cargo module (GrO) instead of the Soyuz Orbital Module and a refueling module containing propellant tanks instead of the Descent Module.  The Progress can transfer propellants into the ISS (SM & FGB) through fluid connectors in the docking ring, and the propellants in the refueling module can also be used by the Progress thrusters for controlling and reboosting the ISS.  Propellants can also be transferred back into the Progress.  The older Progress M's refueling module has four propellant tanks (two each for fuel & oxidizer, totaling 845 kg of props), and two water tanks (420 kg). The newer Progress M1 "tanker" has eight prop tanks (1695 kg) and no water tanks in the refueling module, but separate water containers in the cargo module.  Total payload capacity for both Progress versions is 2500-2600 kg.  The current 10P ship is an older M version (M-47, or M-247).]
At about 11:50am, FE-1 Nikolai Budarin and CDR Ken Bowersox performed the mandatory 1-hr leak check of the Progress-SM/PrK interface. [Since the Russian thrusters were disabled during this period, as during clamp installation later, instructions for a special Recovery from LOAC (loss of attitude control) procedure had been uplinked for the unlikely event of a failure during the time when the thrusters were disabled.]
The two hatches between the PrK/Vestibule (SU) and SU/GrO were to be opened at about 2:15pm and the quick-release threaded clamps installed by Nikolai and Sox, followed by air vent installation and Progress deactivation, after Budarin had performed the scheduled Progress air sampling with the Russian AK-1M sampler.  IP-1 air flow transducers (sensors) will be installed near the hatches to monitor circulation.
Air samples were also taken with the CSA-CP (compound specific analyzer-combustion products), with monthly maintenance performed on the instrument by FE-2/SO Don Pettit, which includes one hour of unattended data collection time.
Don Pettit collected the two regular daily carbon dioxide (CO2) readings in the SM and Lab with the U.S. CDMK (CO2 monitoring kit).
Pettit also performed monitor readings for the EVARM (EVA radiation monitoring) experiment, moving the four pouches from the IV-CPDS (intravehicular charged particle directional spectrometer) to the EVARM reader and then returning the badges to their former location.  He also downloaded the data from the reader to the HRF (human research facility) PC for later downlink.
Nikolai Budarin completed his regular 24-hr. checkup and watering of the Russian BIO-5 Rasteniya-2/Lada-2 ("Plants-2") plant growth experiment.
Later, Budarin performed the daily routine maintenance of the SOSh life support system, incl. ASU toilet facility, and Pettit prepared the IMS inventory database update file for downlink.
For Science Officer Don Pettit, the schedule provided for 30 minutes of reviewing MSG (microgravity science glovebox) procedures.  [With the arrival of 10P, delivering the MSG parts PDC (power distribution controller) and ESEM3 (exchangeable standard electronic module 3), it is expected that MSG operations can be resumed as early as this weekend.  With the indefinite postponement of ULF-1/STS-114 launch, science activities on board, particularly involving the MSG, are undergoing massive replanning.  MSG has been out of action since 11/20/02 due to PDC failure.]
Instructions were uplinked for the procedures to put the files in place needed for the 12A transition to the new R3 software.  There are over 1100 files involved, and the procedure includes steps to clean out old R1 files in the three C&C (command and control) MDMs.
Today's targets for the CEO (crew earth observations program) were Madras (Chennai), India (good nadir views of this coastal city.  Madras is a leading software design center of the world), Calcutta, India (looking a touch right for this major city on the westernmost channel of the Ganges delta), Ganges River Delta (detailed mapping strip of channels on the near side of the delta [slightly right of track] are requested.  Complete devegetation of mangrove forests inland of a protected coastal strip has resulted in a sudden increase in the mobility of shorelines and islands), Karachi, Pakistan (nadir pass; ESC [electronic still camera]), Congo Basin (Dynamic event.  Congo basin reported "exceptionally clear". Request for a mapping swath for about 3 mins over this seldom photographed region.  As a midday pass [local time], the sun glint point is near nadir and ideal for stream pattern analysis), Lagos, Nigeria (looking a touch left on the coast.  Weather remains clear.  ESC), Rio de Janeiro, Brazil (looking a touch left on the coast.  Weather finally clearing.  ESC), and Tunis, Tunisia (looking a touch right on the coast; ESC).
CEO images can be viewed at the website
http://eol.jsc.nasa.gov
U.S. and Russian Segment Status (as of 3:00am EST).
Environmental Control and Life Support (ECLSS) and Thermal Control (TCS):
Elektron O2 generator is powered On (32 Amp mode). Vozdukh CO2 scrubber is On (auto mode).  U.S. CDRA CO2 scrubber is Off.  TCCS (trace contaminant control subsystem) is operating.  MCA (major constituents analyzer) is operating. BMP Harmful Impurities unit: Absorbent bed #1 in Purify mode, bed #2 in Purify mode.  RS air conditioner SKV-1 is Off; SKV-2 is Off.

Propulsion System (PS):  Total propellant load available [SM(820) + FGB(2898) + Progress(0)] — 3718 kg (8197 lb) as of 1/30/03.  (Capability: SM — 860 kg; FGB — 6120 kg).
Electrical Power Systems (EPS):
Both P6 channels fully operational.  Beta Gimbal Assembly (BGA) 2B and 4B both in "blind" dual-angle mode (directed position).
SM batteries:  Battery #7 is off line (failed); all other batteries (7) are in "Full Charge" mode.
FGB batteries:  Battery #1 is off line; all other batteries (5) are in "Partial Charge" mode.
Plasma Contactor Unit PCU-1 and PCU-2 both in Standby mode.
Command & Data Handling Systems:
C&C-2 MDM is prime, C&C-3 is back-up, and C&C-1 is in standby.
GNC-1 MDM is prime; GNC-2 is Backup.
EXT-1 is On (primary), EXT-2 is off.
LA-1, LA-2 and LA-3 MDMs are all operating.
PL-2 MDM is On (primary); PL-1 MDM is off (diagnostic
APS-1 (automated payload switch #1) and APS-2 are both On.
SM Terminal Computer (TVM): 2 redundant lanes (of 3) operational. Lane 1 is out of the set (as of 11/14/02).
SM Central Computer (TsVM): 3 redundant lanes (of 3) operational.
Attitude Source:
3 CMGs on-line (CMG-1 failed).
State vector — U.S. SIGI-1 (GPS)
Attitude — U.S. SIGI-1 (GPS)
Angular rates — U.S. RGA-1
Flight Attitude:
LVLH TEA (local vertical/local horizontal = "earth-fixed‰: z-axis in local vertical, x-axis in velocity vector [yaw: -10 deg, pitch: -9.1 deg, roll: 0 deg]), CMG/TA (thruster assist) momentum management).
Solar Beta Angle:  -3.6 deg (magnitude increasing).
Communications & Tracking Systems:
FGB MDM-1 is powered Off; FGB MDM-2 is operational.
All other Russian communications & tracking systems are nominal.
S-band is operating nominally.
Ku-band is operating nominally.
Audio subsystem operating nominally.
Video subsystem operating nominally, but VTR1 is off.
HCOR (high-rate communications outage recorder) is operating nominally.
Robotics:
SSRMS/Canadarm2 based at MBS PDGF2 with Keep Alive (KA) power on both strings.
MBS: KA power on both strings.  
MT: latched at WS4, with KA power.  
POA: KA power on both strings.
RWS (robotics workstations): Lab RWS is Off; Cupola RWS is Off.
ISS Orbit  (as of this morning, 7:43am EST [= epoch]):
Mean altitude — 386.8 km
Apogee — 390.5 km
Perigee — 383.1 km
Period — 92.29 min.
Inclination (to Equator) —  51.64 deg
Eccentricity — 0.0005499
Orbits per 24-hr. day — 15.60
Mean altitude loss in last 24 hours — 150 m
Solar Beta Angle — -3.6 deg (magnitude decreasing)
Revolutions since FGB/Zarya launch (Nov. '98)  — 24030
For more on ISS orbit and worldwide naked-eye visibility dates/times, see