ISS On-Orbit Status 29 Jan 2003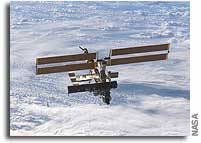 All ISS systems continue to function nominally, except as noted previously or below.
Packing continued on board for Saturday's Progress 9P undocking. Today's schedule had three hours reserved for the deorbit stowage activities that again were video-recorded with the Sony PD-100, with subsequent downlink of the video survey at 6:25am EST. [Discarded stuff includes such diverse items as four 800A batteries, ten old smoke detectors, 20 solid waste containers, four BRPK air/water separator units, filters, liquid containers, old bubble gum, worn suits and other pieces of clothing, dozens of personal hygiene items, etc.]
Undocking of 9P/Progress M1-258 (M1-9) is still set for 2/1 at 10:59am EST.  Half an hour earlier (10:29am), ISS will maneuver to undock attitude.  Progress deorbit burn starts at 2:10pm, lasting three minutes for 97.4 m/sec delta-V.  Entry interface occurs at 2:47pm.  [Early phase of the cargo ship's destructive reentry will be observed from the ISS with the Russian geophysical GFI-1 "Relaksatsiya" experiment, requiring small ISS attitude change.]
FE-1 Nikolai Budarin set up the video recording of the old IMV (intermodular ventilation) survey of 12/19/02 for downlink, initiated at 8:50am by the pre-set/automated daily timeline software (SPP).  The IMV survey focused on the air ducts in the Service Module (SM/PkhO), FGB, Docking Compartment (DC-1) and Soyuz, with special attention to places where ducts bend, sag or twist.
Later, Budarin retrieved a mini-digital video cassette containing the Russian geophysical GFI-1 "Relaksatsiya" observations of the Earth's limb during Soyuz 4S reentry on 11/9/02 and the Moon calibration recording of 12/16/02 for subsequent downlink to MCC-M/TsUP at 10:25am.  [Relaksatsiya deals with the study of the chemoluminescent chemical reactions ("relaxations") and atmospheric light phenomena that occur during high-velocity interaction between the exhaust products from space vehicles and the atmosphere at orbital altitude and during the entry of spacecraft into the Earth's upper atmosphere, such as Progress 9P.]
FE-2/SO Don Pettit continued his work on the ER3 ARIS (EXPRESS Rack 3/active rack isolation system).  [Today's scheduled activities of alignment guides removal (adjustment of four snubber pins), monitoring the hyperextension test and making ARIS snubber adjustments, were dependent on the success of some prior troubleshooting by the ground of the pushrod calibration attempted yesterday by Pettit, which encountered problems.]
The CDRA (carbon dioxide removal assembly) in the Lab was activated by Pettit in support of today's initiation of EMU (extravehicular mobility unit) Metox (metal oxide) regeneration.
 
Regeneration of the first Metox canister in the Airlock (A/L) was started by Don Pettit at about 1:25pm.  In support of regenerating the reusable CO2 absorbers, MCC-H also lowered the A/L temperature setpoint to 64 degF (17.8 degC) to keep the A/L cool until the second (and last) regeneration is completed in two days (Friday).
Before and after initiation of Metox regen, Pettit took CO2 readings of the cabin air in Lab and SM with the portable ACS CDMK (atmosphere control system/CO2 monitoring kit).
The ground conducted a calibration of the onboard VOA (volatile organics analyzer) and later ran a sampling analysis with the instrument. After the VOA calibration, MCC-H also commanded a full ("zero") calibration run of the MCA (major constituents analyzer).
The Vozdukh CO2 scrubber was scheduled to be powered off at 1:30pm EST.
Budarin conducted his regular daily checkup, including watering if required, of the BIO-5 Rasteniya-2/Lada-2 ("Plants-2") experiment, which researches plant growth and development under space flight conditions.
Using the MO-21 "Ecosfera" air sampler and incubation equipment, broken out and set up yesterday, Budarin spent about 40 minutes collecting air samples for atmospheric microbial analysis.  [MO-21 determines microbial contamination of the ISS atmosphere, specifically the total bacterial and fungal microflora counts and microflora composition according to morphologic criteria of microorganism colonies.]
CDR Ken Bowersox performed the regular daily maintenance of SOSh life support system (incl. ASU toilet) fluid lines and connections, as well as the daily Lab payload (PCG-STES010) status checkup, while Budarin prepared today's delta file for automated export to keep the IMS (inventory management system) database up to date.
Prepack planning activities for ULF-1 continue.  Returned items will include two ZSRs (zero-G racks) from the Lab.  They currently contain a large number of CTBEs (cargo transfer bag equivalents) which need to be relocated beforehand.  [Launch of STS-114/ULF is set for NET (not earlier than) 3/1, and since its return cargo manifest is currentlyoverbooked in both the MPLM (multi-purpose logistics module) "Raffaello" and the Atlantis middeck, some priority selections will have to be made between now and early-March.]
The newly installed EarthKAM (Earth Knowledge Acquired by Middle school students) system was in operation throughout the day, taking pictures under pre-programmed control and downlinking the electronic images at regular intervals, without crew intervention required. [EarthKAM images can be found at
http://datasystem.earthkam..ucsd.edu/cgi-bin/datasys/ek_images_station ]
Today's targets for the CEO (crew earth observations program) were Bangkok, Thailand (nadir pass; ESC [electronic still camera].  Crew was also to look for any smog plume rising from the city [looking right over the sea surface]), Dar es Salaam, Tanzania (nadir pass; ESC. This is an ancient Arab port in a trading system that has spanned the Indian Ocean for centuries. Also looking for usually cloudy spice islands of Zanzibar and Pemba just offshore), Buenos Aires, Argentina (nadir and a touch left; ESC), Dakar, Senegal(nadir pass; ESC), Andean Landslide site, Chile (detailed mapping series for ~30 secs of landslide-prone hillsides near the top of the west-facing Andean slopes), and Caracas, Venezuela (nadir and a touch left; ESC).]
CEO images can be viewed at the website
http://eol.jsc.nasa.gov
U.S. and Russian Segment Status (as of 12:45pm EST).
Environmental Control and Life Support (ECLSS) and Thermal Control (TCS):
Elektron O2 generator is powered On (16 Amp mode). Vozdukh CO2 scrubber is Off.  U.S. CDRA CO2 scrubber is On.  TCCS (trace contaminant control subsystem) is operating. MCA (major constituents analyzer) is operating.  BMP Harmful Impurities unit: Absorbent bed #1 in Purify mode, bed #2 in Purify mode.  RS air conditioner SKV-1 is On; SKV-2 is Off.

SM Working Compartment:  Pressure (mmHg) — 753; temperature (deg C) — 25.2; ppO2 (mmHg) — 161.5; ppCO2 (mmHg) — 2.5 (suspect).
SM Transfer Compartment:  Pressure (mmHg) — 751; temperature (deg C) — 19.3.
FGB Cabin:  Pressure (mmHg) — 752; temperature (deg C) — 22.7.
Node:  Pressure (mmHg) — 743.89; temperature (deg C) — 23.0 (shell); ppO2 (mmHg) — n/a; ppCO2 (mmHg) — n/a.
U.S. Lab:  Pressure (mmHg) — 748.93; temperature (deg C) — 22.8; ppO2 (mmHg) — n/a; ppCO2 (mmHg) — n/a;
Joint Airlock (Equip. Lock):  Pressure (mmHg) — 745.93; temperature (deg C) — 19.7; shell heater temp (deg C) — 22.1, ppO2 (mmHg) — 166.5; ppCO2 (mmHg) — 5.3.
PMA-1:  Shell heater temp (deg C) — 22.6
PMA-2:  Shell heater temp (deg C) — 17.5
(n/a = data not available)
Propulsion System (PS):  
Total propellant load available (SM + FGB + Progress) — 3669 kg (8089 lb) [as of 1/23/03].  (Capability: SM — 870 kg; FGB — 6160 kg).
Electrical Power Systems (EPS):
Both P6 channels fully operational.  Beta Gimbal Assembly (BGA) 2B and BGA 4B both in "blind" dual-angle mode (directed position).
SM batteries:  Battery #7 is off line (failed); battery #2  is offline; all other batteries (6) are in "Partial Charge" mode.
FGB batteries:  Battery #2 is offline; all other batteries (5) are in "Partial Charge" mode.
Plasma Contactor Unit PCU-1 and PCU-2 both in Standby mode.
Command & Data Handling Systems:
C&C-1 MDM is prime, C&C-2 is back-up, and C&C-3 is in standby.
GNC-1 MDM is prime; GNC-2 is Backup (new patches loaded on both).
EXT-1 is On (primary), EXT-2 is off.
LA-1, LA-2 and LA-3 MDMs are all operating.
PL-2 MDM is On (primary); PL-1 MDM is off (diagnostic
APS-1 (automated payload switch #1) and APS-2 are both On.
SM Terminal Computer (TVM): 2 redundant lanes (of 3) operational. Lane 1 is down (as of 11/14/02).
SM Central Computer (TsVM): 3 redundant lanes (of 3) operational.
Attitude Source:
3 CMGs on-line (CMG-1 failed).
State vector — U.S. SIGI-1
Attitude — U.S. SIGI-1
Angular rates — U.S. RGA-1
Flight Attitude:
LVLH TEA (local vertical/local horizontal = "earth-fixed": z-axis in local vertical, x-axis in velocity vector [yaw: -10 deg, pitch: -9.1 deg, roll: 0 deg]), CMG/TA (thruster assist) momentum management).
Solar Beta Angle:  19.5 deg (magnitude decreasing).
Communications & Tracking Systems:
FGB MDM-1 is powered Off; FGB MDM-2 is operational.
All other Russian communications & tracking systems are nominal.
S-band is operating nominally.
Ku-band is operating nominally.
Audio subsystem operating nominally.
Video subsystem operating nominally.
HCOR (high-rate communications outage recorder) is operating nominally.
Robotics:
SSRMS/Canadarm2 based at MBS PDGF2 with Keep Alive (KA) power on both strings.
MBS: KA power on both strings.  
MT: latched at WS4, with KA power.  
POA: KA power on both strings.
RWS (robotics workstations): Lab RWS is Off; Cupola RWS is Off.
ISS Orbit  (as of this morning, 6:22am EST [= epoch]):
Mean altitude — 387.9 km
Apogee — 391.7 km
Perigee — 384.2 km
Period — 92.31 min.
Inclination (to Equator) —  51.64 deg
Eccentricity — 0.0005574
Orbits per 24-hr. day — 15.60
Solar Beta Angle — 19.5 deg (magnitude decreasing)
Revolutions since FGB/Zarya launch (Nov. '98)  — 23936
For more on ISS orbit and worldwide naked-eye visibility dates/times, see