ISS On-orbit Status 29 Aug 2002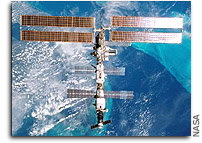 All ISS systems continue to function nominally, except as noted previously or below.
The crew enjoyed a rest day today, with only a few tasks on their schedule.
FE-1 Peggy Whitson was thanked by a grateful Payloads community for her early and excellent cleanup of the MSG (Microgravity Science Glovebox) and its remnants of the broken SUBSA (solidification using a baffle in sealed ampoule) experiment container.  [Before MSG/SUBSA operations can resume, the failure analysis of the SUBSA-07 anomaly needs to be reviewed by the PSRP (Payload Safety Review Panel) in Houston, which must approve SUBSA ops continuation.  The review is scheduled for tomorrow, and if approved, the earliest date for the next SUBSA run would be 8/31 (Saturday).  There are six SUBSA runs planned In the current long term plan prior to stowage on 9/30. Maximum number of additional runs possible is seven (five samples and rerun of first two).]
At the BMP micropurification system in the Service Module (SM), FE-2 Sergey Treschev terminated regeneration mode for absorption bed #1, switching it back to Purify mode.  Later, he initiated the regenerative bake-out of catalyst bed #2.
Daily routine servicing tasks were completed by CDR Valeriy Korzun (SOSh life support systems maintenance), Whitson (status checkup of Lab payloads PCG-STES008 and ADVASC), and Treschev (IMS delta file preparation).
Starting at 3:15am EDT, "Valera" and Sergey conducted a ham radio session with school children in the Russian city of Kursk, fielding questions from 13- and 15-year old youngsters.  The chat was conducted in two parts of 15 minutes each on two successive orbits over Russia.
In an audio/video event arranged by PAO, Peggy Whitson downlinked a greeting from space for the 150th Anniversary of the American Society of Civil Engineers (ASCE), which had requested the message for replay at the official Gala Banquet on 11/5 at its Annual Conference and Exposition in Washington, DC.
At 7:04am EDT this morning, the SM Central Computer system (TsVM) lost one of its three mutually redundant subsets; it is now operating on two lanes.  The Terminal Computer system (TVM) continues on three subsets.
Automated data take by the VOA (volatile organics analyzer) continued through the night.  The instrument was terminated this morning at 2:05am, after the data had been dumped to the ground.
After SM refueling from Progress 8P was terminated yesterday at 12:00pm EDT after about 9.5 h, automated transfer of nitrogen tetroxide oxidizer began this morning at 1:45 am, to run for another 9.5 h.
Today's targets for the CEO (crew earth observations) program were Berlin, Germany (just left of nadir; use of ESC [electronic still camera] requested), Chicago, Illinois (nadir pass; with ESC), Seattle, Washington (nadir pass; with ESC), Typhoon Rusa (striking Okinawa.  Compact, classic shape, category 3 storm with 95 kt winds gusting to 115 kt, heading WNW. Is forecast to recurve north towards south coast of Korea.  Low sunrise illumination of cloudbands and embedded thunderstorms.  Left of track), Borneo fires (clear skies over western Borneo.  Crew to look left for fires and smoke.  Burning may be increased by lower-than-normal rainfall related to the present El Nino event), Eastern Mediterranean Dust (yesterday's plume off Libya is moving east.  Saharan dust should have reached Turkey by the time of the ISS pass).
CEO images can be viewed at the website http://eol.jsc.nasa.gov
U.S. and Russian Segment Status (as of 4:00 am EDT):
Environmental Control and Life Support (ECLSS) and Thermal Control (TCS):
Elektron O2 generator is powered On (32-amp mode), on backup pump.  Vozdukh CO2 scrubber is ON in MANUAL cycle mode #5, i.e., 10-min. cycle time (vacuum pump failed).  U.S. CDRA CO2 scrubber on command override.  BMP Harmful Impurities unit: Absorbent bed #1 in Purify mode, bed #2 in Regeneration mode.
Electrical Power Systems (EPS):
Both P6 channels fully operational.  Beta Gimbal Assembly (BGA) 2B and BGA 4B in AutoTrack mode (solar-tracking).
SM batteries:   Battery #1 is off-line; all other batteries (7) are in "Partial Charge" mode.
FGB batteries:  Battery #5 is off-line; all other batteries (5) are in "Partial Charge" mode.
Plasma Contactor Unit PCU-1 in Standby mode; PCU-2 in Standby mode.
Thermal Control Systems:
Air conditioner SKV-1 is Off; SKV-2 is On.
Command & Data Handling Systems:
C&C-3 MDM is prime, C&C-2 is back-up, and C&C-1 is in standby.
GNC-1 MDM is prime; GNC-2 is Backup.
LA-1, LA-2 and LA-3 MDMs are all operating.
PL-1 MDM is Off (cold backup); PL-2 MDM is operating as primary.
APS-1 (automated payload switch #1) and APS-2 are both On.
SM Terminal Computer (TVM): 3 redundant lanes (of 3) operational.
SM Central Computer (TsVM): 2 redundant lanes (of 3) operational.
Attitude Source:
3 CMGs on-line.
State vector — US GPS (SIGI string 1)
Attitude — Russian segment
Angular rates — US RGA1 (rate gyro assembly 1)
Communications & Tracking Systems:
All Russian communications & tracking systems are nominal.
S-band is operating nominally.
Ku-band is operating nominally.
Audio subsystem operating nominally.
Video subsystem operating nominally.
MCOR (medium-rate communications outage recorder) is operating nominally.
Robotics:
SSRMS/Canadarm2 at MBS PDGF 1 (mobile base system/power & data grapple fixture 1), in EVA-8 viewing position, with Keep Alive power on both strings (based on MBS).
MBS: Keep Alive power on both strings.
RWS (robotics workstations): Lab RWS is Off; Cupola RWS is Off.
ISS Orbit (as of this morning, 7:40am EDT [= epoch]):
Mean altitude — 391.1 km
Apogee — 401.9 km
Perigee — 380.3 km
Period — 92.4 min.
Inclination (to Equator) — 51.64 deg
Eccentricity — 0.0015925
Orbits per 24-hr. day — 15.59
Solar Beta Angle — -37.8 deg (magnitude decreasing)
Altitude decrease — 200 m (mean) in last 24 hours
Revolutions since FGB/Zarya launch (Nov. '98) — 21546
Current Flight Attitude — XPOP (x-axis perpendicular to orbit plane = "sun-fixed" [yaw: -0.5 deg, pitch: -5.7 deg., roll: 0 deg]). Will remain in XPOP until solar Beta drops below -10 deg.
For more on ISS orbit and worldwide naked-eye visibility dates/times, see
http://www.hq.nasa.gov/osf/station/viewing/issvis.html