ISS On-Orbit Status 28 Aug 2002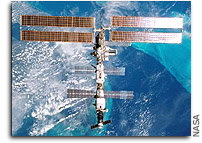 All ISS systems continue to function nominally, except as noted previously or below.
Crew is back on regular sleep cycle (and so is ground support): up at 2:00am EDT to a 15.5-hr day including meals, rest and exercise periods, and back to bed at 5:30pm.
CDR Valeriy Korzun and FE-2 Sergey Treschev worked on the TORU teleoperated rendezvous system in the Service Module (SM), first testing its translational hand controller (RUD), then replacing it with another RUD, which they removed from the Soyuz TM-34's orbital module. Finally, both the RUD and the rotational hand controller (RUO) were checked out and functionally tested, with results reported to the ground.  The replaced controller was stowed for return to Earth.  The TORU activities were videotaped with the US DVCAM.
Later, Valeriy and Sergey continued clean-up after Monday's EVA-8, removing the BK-3 O2 tank and battery from the suit backpacks (BRTA), refilling the Orlan feedwater bladders, and setting the suits up for dry-out during the course of the following hours.
FE-1 Peggy Whitson worked on the ADVASC (advanced astroculture) growth chamber, collecting samples of its nutrients, condensate and gas.
She also performed a controlled power-down of the VOA (volatile organics analyzer) instrument, before MCC-H reactivated it remotely. [This sometimes repeated power-cycling is required to ensure adequate nitrogen flow to VOA.  Later in the day, after warming up, the VOA was ground-commanded to  perform a calibration run of approximately 3.5 hours, followed by a sampling run for another 3.5 hours.]
Treschev completed the regular periodic inspection of the VP fan on the active SKV air conditioner for visible moisture accumulation, and also of the BRPK-2 water condensate separator unit.
Subsequently, he started the regeneration (bake-out) process for absorbent bed #1 of the BMP micropurification unit in the SM. Filter channel #2 remains in Purify mode.
Korzun completed another removal and replacement of the micropurification column (BKO) in the condensate water processor (SRV-K2M) in the SM, which had reached its service life limit.  The last replacement was two months ago (6/23).
Peggy Whitson began this week's water sampling, a periodic task to ensure good water quality on board.  She collected two samples each from the hot tap (SRV-K) and the EDV container ports (SVO-EhB) of the water supply system.  One sample from each port will be used for microbiological in-flight analysis and the other for chemical archive.  She performed the in-flight analysis using the WMK (water microbiology kit) with the backup syringe method.  [On Friday she is to analyze the MCDs (microbial capture devices) for their T+2 days reading and enter the data into the MEC (medical equipment computer).  T+5 readings will not be needed.]
Peggy also completed weekly maintenance of the TVIS treadmill, then retightened the bolts of the RED (resistive exercise device) and performed regular inspection of the RED.
Later, she recorded her nutritional intake by filling out her weekly HMS FFQ (health maintenance systems/food frequency questionnaire), then powered up the HRF (human research facility) for the subsequent  PAO event.
For the PAO TV downlink on Ku-band (video) and S-band (audio) at 10:30am EDT, Peggy took her live audience on a Science Tour of the Lab, with Valeriy acting as camera operator.  The excellent half-hour production was an outstanding event which highlighted the most important science activities currently underway on board, such as PuFF, Renal Stone, MSG Glovebox, SUBSA, EVARM, CEO from the Lab science window, etc.  She also demonstrated the easy rotation of one of the massive equipment racks (overhead).  The tour was aired live on NASA TV and will be replayed periodically.
Peggy Whitson also got ahead of schedule by completing the clean-up of the MSG (Microgravity Science Glovebox) which had a broken SUBSA sample ampoule in its thermal chamber.  It had been placed on the "job jar" task list and was also hard-scheduled for Friday.
CDR Korzun tagged up with a ground specialist to discuss the Russian Diatomeya ocean observation program.
Both he and FE-2 Treschev completed their weekly data collection of the NTXN Interactions experiment, entering subjective mood, group and journal impressions in the HRF PC questionnaire.
Daily routine maintenance tasks were performed by Korzun (SOSh life support system servicing), Whitson (Lab autonomous payload status checkup), and Treschev (inventory management system "delta" file preparation).
Autonomously running operational payloads in the Russian segment are Prognoz (prediction of crew radiation dose loads), Bradoz (bioradiation dosimetry during the flight), Izgib (influences of onboard systems modes on ISS flight conditions),  Identifikatsiya (measurement of microgravity), Skorpio (environmental data collection inside SM), and Meteoroid (registration of particles on SM external surface).
Early in the morning (2:45am), TsUP commanded start of fuel transfer in the Russian segment from the Progress 8P tanks to the tankage of the SM integrated propulsion system (ODU).  The automated transfer of UDMH (unsymmetrical dimethyl hydrazine) was scheduled to last for 9h 19 min.  Transfer of oxidizer (N2O4, nitrogen tetroxide) is planned for tomorrow morning, also for 9 h 19 min.
MCC-H was to activate the CDRA (carbon dioxide removal assembly) in single-bed mode today after running vacuum exposure tests of the two catalyst beds.  For its operation, Peggy was to plug in the low-temperature loop of the AR (air revitalization) rack's thermal control system.
Update on PL1 MDM:  Analysis of an initial data dump for troubleshooting the failed PL1 computer showed that the cause was a task overrun. Further data dumps were unsuccessful in diagnosing the problem. PL1 was successfully power- cycled and iscurrentlyoperating in"wait" state. [The problem appears to have been transient. Huntsville/POC (Payload Operations Center) will downlink some files for further troubleshooting after which the MDM will be powered off, leaving the Lab in a nominal configuration of PL2 operating as primary and PL1 as a "cold", but healthy backup.]
Update on leaking CWC:  Per agreement reached at a US/Russia telecon yesterday morning, the crew was instructed last night to ensure that the leaking CWC (collapsible water container) #5087 is triple-bagged, with CWC not counted as containment, and stored in the US segment, pending further direction from the hardware specialists.
Update on CMGs:  CMG 2 (control moment gyro #2) has been experiencing higher than expected trending of motor currents.  The Flight Control Team and hardware experts are monitoring telemetry, but no action has been taken at this time.  Meanwhile, as reported yesterday, the spare CMG was scheduled to be spun up today, to isolate the bearing noises heard during the recent test run.
The Soyuz 5 taxi crew of Sergey Zalyotin, Frank DeWinne and Lance Bass visited MCFC-H/Flight Control yesterday, to see how the ground interacts with crews on station.
Today's targets for the CEO (crew earth observations) program were Tunis, Tunisia;  Saharan dust (nadir pass over this port city.  ESC [electronic still camera] requested.  Approaching Atlantic low pressure system was generating dust plumes off the Libyan coast, just right of track), Danube basin floods (nadir views of swollen Danube River, Europe's largest river, in Romania), Phoenix, AZ (good view of the metroplex just left of nadir.  Crew to try for city margins, using ESC), Tucson, Arizona (good view of the city just right of nadir on the valley floor between high forested mountains.  Crew to try for city margins, using ESC camera), Sumatra (descending pass down the spine of the island.  Of interest: looking left for numerous fires and possible smoke pall, which should have appeared clearly in late afternoon light.  Strait of Malacca [between Sumatra and the Malay peninsula and one of the busiest seaways in the world], with the city-state of Singapore, also left of track), Eastern Mediterranean Aerosol (crew to look right for Saharan dust plumes coming off northern Libya, and left for probable smog accumulation, under ideal conditions, in the eastern Mediterranean.  Cairo has one of the worst air pollution problems in the world with various aid programs to assist in cleaning the air), and Angolan Biomass Burning (crew to look left at sunset).
CEO images can be viewed at the website http://eol.jsc.nasa.gov
U.S. and Russian Segment Status (as of 1:16 am EDT):
Environmental Control and Life Support (ECLSS) and Thermal Control (TCS):
Elektron O2 generator is powered On (32-amp mode), on backup pump.  Vozdukh CO2 scrubber is ON in MANUAL cycle mode #5, i.e., 10-min. cycle time (vacuum pump failed).  U.S. CDRA CO2 scrubber is offline.  BMP Harmful Impurities unit: Absorbent bed #1 in Regeneration mode, bed #2 in Purify mode.
SM Working Compartment:  Pressure (mmHg) — 760, temperature (deg C) — 26.9, ppO2 (mmHg) — 146.7, ppCO2 (mmHg) — 2.6.
SM Transfer Compartment:  Pressure (mmHg) — 746, temperature (deg C) — 21.6.
FGB Cabin:  Pressure (mmHg) — 752, temperature (deg C) — 21.7.
Node:  Pressure (mmHg) — 752.16, temperature (deg C) — 24.8 (shell); ppO2 (mmHg) — n/a; ppCO2 (mmHg) — n/a.
U.S. Lab:  Pressure (mmHg) — 753.6, temperature (deg C) — 25.0, ppO2 (mmHg) — n/a; ppCO2 (mmHg) — n/a;
Joint Airlock (Equip. Lock):  Pressure (mmHg) — 753.6, temperature (deg C) — 29.3; shell heater temp (deg C) — 27.7, ppO2 (mmHg) — n/a; ppCO2 (mmHg) — n/a.
PMA-1:  Shell heater temp (deg C) — 24.1
PMA-2:  Shell heater temp (deg C) — 13.3
(Note: Partial pressures ppO2 and ppCO2 in U.S. segment [USOS] not available because MCA [major constituent analyzer] is failed and in Extended Life mode [= a state that preserves mass spectrometer vacuum but produces no pp data]). MSA (mass spectrometer assembly) and VGA (verification gas assembly) were replaced, but some more work needs to be done).
Electrical Power Systems (EPS):
Both P6 channels fully operational.  Beta Gimbal Assembly (BGA) 2B and BGA 4B in AutoTrack mode (solar-tracking).
SM batteries:   Battery #1 is off-line; all other batteries (7) are in "Full Charge" mode. (Data are static)
FGB batteries:  Battery #5 is off-line; all other batteries (5) are in "Partial Charge" mode.
Plasma Contactor Unit PCU-1 in Standby mode; PCU-2 in Standby mode.
Thermal Control Systems:
Air conditioner SKV-1 is Off; SKV-2 is Off.
Command & Data Handling Systems:
C&C-3 MDM is prime, C&C-2 is back-up, and C&C-1 is in standby.
GNC-1 MDM is prime; GNC-2 is Backup.
LA-1, LA-2 and LA-3 MDMs are all operating.
PL-1 MDM is Off (cold backup); PL-2 MDM is operating as primary.
APS-1 (automated payload switch #1) and APS-2 are both On.
SM Terminal Computer (TVM): 3 redundant lanes (of 3) operational.
SM Central Computer (TsVM): 3 redundant lanes (of 3) operational.
Attitude Source:
3 CMGs on-line.
State vector — US GPS (SIGI string 1)
Attitude — Russian segment
Angular rates — US RGA1 (rate gyro assembly 1)
Communications & Tracking Systems:
All Russian communications & tracking systems are nominal.
S-band is operating nominally.
Ku-band is operating nominally.
Audio subsystem operating nominally.
Video subsystem operating nominally.
MCOR (medium-rate communications outage recorder) is operating nominally.
Robotics:
SSRMS/Canadarm2 at MBS PDGF 1 (mobile base system/power & data grapple fixture 1), in EVA-8 viewing position, with Keep Alive power on both strings (based on MBS).
MBS: Keep Alive power on both strings.
RWS (robotics workstations): Lab RWS is Off; Cupola RWS is Off.
ISS Orbit (as of this morning, 7:28am EDT [= epoch]):
Mean altitude — 391.3 km
Apogee — 402.3 km
Perigee — 380.2 km
Period — 92.4 min.
Inclination (to Equator) — 51.64 deg
Eccentricity — 0.0016319
Orbits per 24-hr. day — 15.59
Altitude decrease — 200 m (mean) in last 24 hours
Revolutions since FGB/Zarya launch (Nov. '98) — 21530
Current Flight Attitude — XPOP (x-axis perpendicular to orbit plane = "sun-fixed" [yaw: -0.5 deg, pitch: -5.7 deg., roll: 0 deg]).
For more on ISS orbit and worldwide naked-eye visibility dates/times, see
http://www.hq.nasa.gov/osf/station/viewing/issvis.html