ISS On-orbit Status 20 Jan 2003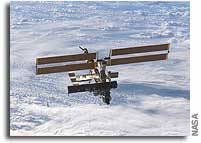 All ISS systems continue to function nominally, except as noted previously
or below. Week 8 for Expedition 6 is underway.
FE-1 Nikolai Budarin unstowed the Russian Plasma Crystal 3 (PK-3) experiment
module and tagged up with ground specialists via S-band, while connecting
the module to the vacuum line, then running a pressurization test and
vacuum check. Shortly before sleep time, the PK-3 vacuum turbopump was
shut down again. [In further preparation for upcoming PK-3 operations,
tomorrow Budarin will create a software installation diskette and install
the necessary software on the payload.]
Later in the day, Budarin performed the KARDIO-ODNT, a cardiovascular
test of human pericardium (heart muscle) activity as well as of primary
parameters of central and regional blood circulation at rest and under
the effect of lower body negative pressure (LBNP, Russian: ODNT). The
complex experiment, supported by ground specialists via VHF, took two
hours and required the assistance by FE-2/SO Don Pettit during the entire
procedure. [The LBNP, generated by a specially designed "Chibis" suit,
applies suction on the lower body ranging from 10 to 60 mmHg, thereby
exerting a functional loading roughly equivalent to 10-60 kg of force
on the musculosceletal system to test the body's adaptation to prolonged
exposure to microgravity. After an initial setup period, during which
a large number of electrodes are attached to the head, body and extremities
of the test subject, cardiographic readings on the oscilloscope of the
Gamma-1M medical complex are taken during one or two Russian ground sites
(RGS) comm passes, first without, then with the Chibis suit.]
CDR Ken Bowersox powered up the EXPRESS Rack 1 (ER1) laptop computer,
before the ground initiated ER1 power for the subsequent loading of new
software on the PC and the RIC (rack interface controller). Laptop and
ER1 were later powered down again. [Bowersox retrieved the RIC software
from OCA and started the RIC loading, which then proceeded automatically,
after which he was again needed to complete the activity. This was the
second of five ER and laptop software upgrades. The loading was not impacted
by the improper setting of an IP address discovered in the s/w during
the recent ER5 loading.]
On the ZCG (Zeolite crystal growth) payload, Bowersox powered down the
IZECS (improved Zeolite electronic control system) and unloaded samples
from the furnace.
Bowersox also performed a manual IWIS (internal wireless instrumentation
system) memory dump of CEVIS (cycle ergometer with vibration isolation)
data from RSUs (remote sensor units) 1026, 1027 and 1028 to an SSC (station
support computer) laptop harddrive card. [He was advised to report the
file size if a memory dump took longer than eight minutes, and then press
on to the next RSU.]
Don Pettit initiated this week's water sampling, a periodic task to
ensure good water quality on board, by collecting samples from the SRV-K2M
potable water supply container (KPV). He performed the in-flight analysis
using the U.S. WMK (water microbiology kit).
Bowersox conducted the periodic function inspection of U.S. segment
smoke detectors in the Airlock, Lab and Node.
Sox also replaced the batteries of the portable CDMs (carbon dioxide
monitors), stowing the used batteries.
Nikolai Budarin performed his regular daily inspection of the Russian
BIO-5 Rasteniya-2/Lada-2 ("Plants-2") plant growth experiment.
Nikolai also conducted a tag-up with ground specialists to prepare for
tomorrow's planned changeout of the TA-985M data storage unit of the
BITS2-12 on-board telemetry measurement system.
Bowersox completed the daily routine tasks of SOSh life support systems
maintenance and Lab payloads status checkup, while Budarin prepared the
IMS inventory delta file for automatic export to MCC-M tonight.
In continuing troubleshooting of the two loop B heaters for the NTA
(nitrogen tank assembly) on the P1 truss, the ground is monitoring P1
NTA temperatures. [Currently, they appear to be fairly stable at -46.2
and -44 degC. Should the temperatures fall below -48.3 degC, then plans
will be made to maneuver attitude to LVLH (local vertical/local horizontal)
to protect the thermal limits of the hardware. Expectations are that
temperatures will remain above this lower limit.]
Yesterday's Vozdukh troubleshooting was successful, and the Russian
CO2 removal system is currently up and running.
The crew was again thanked for the great work they did on 1/18 on the
changeout of the failed O2 (oxygen) 100-psi regulator/relief valve (A082)
in the U.S. Airlock, a four-hour job.
The next Robotics operations are scheduled for next Thursday (1/23).
Objective: to maneuver the SSRMS (space station remote manipulator system)
into a position to view the S1 truss radiator clearance during the planned
checkout of its TRRJ (thermal radiator rotary joint). [This maneuver
involves "walking" the Canadarm2 from the current base, the
Lab PDGF (power and data grapple fixture), to MBS (mobile base system)
PDGF2 (new base), by using MBS PDGF1 as an intermediate. After subsequent
release of MBS PDGF1, a quick grapple/release of MBS PDGF3 as an SSRMS
digitals accuracy characterization exercise is also part of the move
to S1 clearance viewing position.]
The ISS transition to Software Release 3 (R3) is currently anticipated
for 2/11. Preparations are in review. [On that day, the C&C (command & control),
GNC (guidance, navigation & control) and INT (internal) MDMs (multiplexer/demultiplexer)
computers will be transitioned to the new software version which is to
be uplinked from 2/6 through 2/10.]
U.S. and Russian Segment Status (as of 2:03pm EST).
Environmental Control and Life Support (ECLSS) and Thermal Control (TCS):
Elektron O2 generator is powered On (16 Amp mode). Vozdukh CO2 scrubber
is On. U.S. CDRA CO2 scrubber is Off. TCCS (trace contaminant control
subsystem) is off. MCA (major constituents analyzer) is operating.
BMP Harmful Impurities unit: Absorbent bed #1 in Purify mode, bed #2
in Purify mode. Air conditioner SKV-1 is On, SKV-2 is Off.
SM Working Compartment: Pressure (mmHg) — 753; temperature (deg C)
— 25.9; ppO2 (mmHg) — 161.4; ppCO2 (mmHg) — 0.0 (suspect).
SM Transfer Compartment: Pressure (mmHg) — 751; temperature (deg C)
— 20.0.
FGB Cabin: Pressure (mmHg) — 752; temperature (deg C) — 22.7.
Node: Pressure (mmHg) — 738.16; temperature (deg C) — 23.9 (shell);
ppO2 (mmHg) — n/a; ppCO2 (mmHg) — n/a.
U.S. Lab: Pressure (mmHg) — 739.87; temperature (deg C) — 22.9; ppO2
(mmHg) — 163.02; ppCO2 (mmHg) — 1.3;
Joint Airlock (Equip. Lock): Pressure (mmHg) — 739.97, temperature (deg
C) — n/a; shell heater temp (deg C) — 22.8, ppO2 (mmHg) — n/a; ppCO2
(mmHg) — n/a.
PMA-1: Shell heater temp (deg C) — 24.7
PMA-2: Shell heater temp (deg C) — 14.4
(n/a = data not available)
Propulsion System (PS): Total propellant load available (SM + FGB +
Progress) — 3689 kg (8133 lb) [as of 1/16/03].
Electrical Power Systems (EPS):
Both P6 channels fully operational. Beta Gimbal Assembly (BGA) 2B and
BGA 4B both in Autotrack (sun-following) mode.
SM batteries: data unavailable.
FGB batteries: data unavailable.
Plasma Contactor Unit PCU-1 and PCU-2 both in Standby mode.
Command & Data Handling Systems:
C&C-1 MDM is prime, C&C-2 is back-up, and C&C-3 is in standby.
GNC-1 MDM is prime; GNC-2 is Backup (new patches loaded on both).
EXT-2 is On (primary), EXT-1 is off.
LA-1, LA-2 and LA-3 MDMs are all operating.
PL-2 MDM is On (primary); PL-1 MDM is off (diagnostic
APS-1 (automated payload switch #1) and APS-2 are both On.
SM Terminal Computer (TVM): 2 redundant lanes (of 3) operational. Lane
1 is down (as of 11/14).
SM Central Computer (TsVM): 3 redundant lanes (of 3) operational.
Attitude Source:
3 CMGs on-line (CMG-1 failed).
State vector — U.S. SIGI-1
Attitude — U.S. SIGI-1
Angular rates — U.S. RGA-1
Flight Attitude:
XPOP (x-axis perpendicular to orbit plane = "sun-fixed" [yaw:
-178.0 deg, pitch: -6.0 deg., roll: 0 deg]), CMG/Thruster Assist Momentum
Management).
Communications & Tracking Systems:
FGB MDM-1 is powered Off; FGB MDM-2 is operating.
All other Russian communications & tracking systems are nominal.
S-band is operating nominally.
Ku-band is operating nominally.
Audio subsystem operating nominally.
Video subsystem operating nominally.
HCOR (high-rate communications outage recorder) is operating nominally.
Robotics:
SSRMS/Canadarm2 based at Lab PDGF with Keep Alive (KA) power on both
strings.
MBS: KA power on both strings.
MT: latched at WS4, with KA power.
POA: KA power on both strings.
RWS (robotics workstations): Lab RWS is Off; Cupola RWS is Off.
ISS Orbit (as of this morning, 7:04am EST [= epoch]):
Mean altitude — 389.2 km
Apogee — 393.2 km
Perigee — 385.3 km
Period — 92.34 min.
Inclination (to Equator) — 51.64 deg
Eccentricity — 0.0005808
Orbits per 24-hr. day — 15.59
Altitude loss — 160 m (mean) in last 24 hours
Revolutions since FGB/Zarya launch (Nov. '98) — 23796
For more on ISS orbit and worldwide naked-eye visibility dates/times,
see
http://www.hq.nasa.gov/osf/station/viewing/issvis.html