ISS On-Orbit Status 2 Sep 2002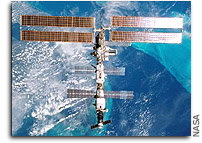 All ISS systems continue to function nominally, except as noted previously. Begin of Week 13 of Increment 5.
It's Labor Day for the ISS crew, too, with an off-duty schedule.
FE-1 Peggy Whitson activated the extravehicular radiation monitoring (EVARM) reader and took pre-EVA background readings for the EVARM experiment.
Later she set up the amateur (ham) radio equipment and conducted a Q&A interchange with students of Mikve Israel School in Holon, Israel, at the Givatayim Space Observatory. The Israeli government has declared the year 2002 as "space year", due to the participation of Israeli astronaut Ilan Ramon in Shuttle mission STS-107. Guest of honor was Mr. Aby Har Even, chairman of the Israel Space Agency.
The SAMS/PAO exercise video, a task list item, was also set up for today, after the SAMS (space acceleration measurement system) team had readied all SAMS sensors, with EXPRESS Rack 2 (ER2) and ER1 powered up for this purpose. [The exercise video is to serve two purposes: an educational school event on 9/17 (Ashland Schools), and a SAMS study of an exercise session on the RED. For the educational event, the video was to demonstrate jogging on TVIS, arm ergometry on the VELO cycle, a workout on the CEVIS ergometer bike, and typical pre-EVA hand and finger strengthening exercises. For SAMS measurements, the RED was to be used as much as practical up to 40 min. maximum.]
The physical exercise sessions of the crew were performed between 6:30-8:30 am EDT.
After the workout sessions, CDR Valeriy Korzun and FE-2 Sergey Treschev were scheduled to conduct a life 45-min. video conference with Moscow Provincial Governor Gromov at TsUP/MCC-M in Korolev, via Ku-band for the video downlink) and S-band/OCA for the audio uplink.
Today's targets for the U.S. CEO (crew earth observations) program were Tigris-Euphrates, Turkey (crew was to photograph detailed views of any of the many lakes built recently on the Euphrates in southwestern Turkey, looking left), Western Mediterranean Aerosols (high pressure conditions setting in: crew to look for smog accumulation in the Med basin, left and right of track), Seattle, Washington (nadir view and left. Use of ESC [electronic still camera} advised), Dallas, Texas (nadir view and left. ESC), Lake Eyre, Australia (good oblique view of the whole basin right of track [attention on white salt flats]. Lake Eyre fills and empties partly on the multi-year El Nino cycle), Toshka Lakes, Egypt (detailed views of these lakes, most of which are unplanned and continue to grow during the Nile's present high-discharge years), Angolan Biomass Burning (crew to look mainly left as ISS tracked across the subcontinent), Industrialized SE Africa (smoke, dust and smog characterize the plateau of South Africa in summer and winter. Conditions seem be leading to another smog event), and Lower Amazon River Basin (crew to look right for views of the estuary. Detailed views of coastlines requested).
CEO images can be viewed at the website http://eol.jsc.nasa.gov
ISS Orbit (as of this morning, 7:21am EDT [= epoch]):
Mean altitude — 390.4 km
Apogee — 400.9 km
Perigee — 379.9 km
Period — 92.4 min.
Inclination (to Equator) — 51.64 deg
Eccentricity — 0.0015519
Orbits per 24-hr. day — 15.59
Altitude decrease — 200 m (mean) in last 24 hours
Revolutions since FGB/Zarya launch (Nov. '98) — 21608
Current Flight Attitude — XPOP (x-axis perpendicular to orbit plane = "sun-fixed" [yaw: -0.5 deg, pitch: -5.7 deg., roll: 0 deg]). Will remain in XPOP until solar Beta drops below -10 deg on 9/6.
For more on ISS orbit and worldwide naked-eye visibility dates/times, see
http://www.hq.nasa.gov/osf/station/viewing/issvis.html