ISS On-Orbit Status 18 May 2002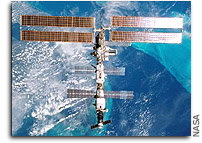 All ISS systems continue to function nominally, except as noted
previously or below. Day 163 on orbit for Expedition 4.
It was a rest day for the crew, with a few mandatory maintenance
tasks thrown in.
As every week on Saturday (generally), the ISS residents
performed the 2-hr. "uborka" (house cleaning), which includes wiping
surfaces with disinfectants and cleaning of all fan screens to avoid
temperature rises.
In the SM toilet system (ASU). CDR Yuri Onufrienko replaced the urine
collector and disposable filter, a periodic maintenance task.
Other regular daily servicing chores were completed by Onufrienko
(SOSH life support system maintenance, BRPK-1 water condensate
separator inspection) and FE-2 Dan Bursch (8A/Inc. 4 payloads status
checks).
Onufrienko also worked on the Russian harmful impurities removal
system (BMP), starting the "bake-out" cycle on absorbent
bed #1 of the regenerable dual-channel filtration system.
Regeneration of each bed takes about 24 hours.
Both flight engineers had their weekly private family conferences
(PFCs) via Ku- and S-band.
At 2:55 pm EDT, ISS downlinked a televised message of greeting and
support to the participants of the International Forum on
"Prospects for Conservation and Development of Unitary Planetary
Civilization: Culture, Ecology, Cosmos" at the Peking Hotel in
Moscow. The conference will be held on May 26-31. The
downlink was transmitted via Russian ground sites.
The crew also had their weekly planning conference (WPC) with the
MCC-H and performed the daily physical exercise program on treadmill,
resistive pulley and cycle ergometer.
Flight attitude of the ISS continues in XPOP. Next maneuver will be
the transition to earth-oriented LVLH for UF-2 docking on 6/1.
Science Update (Expedition Four — 23rd):
According to Lead Scientist Dr. John Uri, the Principal
Investigators (PIs) continue to be very pleased with the results of
the science performed on board the station and the crew's outstanding
work.
Hoffman-Reflex: Complete.
Extra-Vehicular Activity Radiation Monitors (EVARM): The
EVARM team thanked the crew for the UF-2 pre-readings. Although
scheduling of EVARM for UF-2 may prove to be a challenge, the data
takes will provide the PI valuable information.
Ultrasound: Complete.
GASMAP/Pulmonary Function in Flight (PuFF): The PuFF
team is looking forward to another successful session next week.
This will be the crew's final in-flight session.
Renal (Kidney) Stone Experiment: In progress. The
Renal Stone team thanked Bursch and Walz for their participation in
the last in-flight collection and reminded them to continue taking
their Potassium Citrate/Placebo pills until landing.
Interactions (NTXN): In progress.
Cellular Biotechnology Support Systems (CBOSS): The BTR
(biotechnology refrigerator) unit and the internal fan are currently
powered off. The ground will know next week if it is necessary
to power the unit back on for BPS (biomass production system)
samples.
Physics of Colloids in Space (EXPPCS):
Complete.
Space Acceleration Measurement System (SAMS): SAMS is
currently active and operating nominally. New events captured in data
include the recent debris avoidance maneuver.
Microgravity Acceleration Measurement System (MAMS):
MAMS is active and downlinking OSS quasi-steady data. HiRAP is
turned off to conserve storage space. New events captured in
data include the recent debris avoidance maneuver.
Protein Crystal Growth-Single Locker Thermal Enclosure System
(PCG-STES): Has returned home.
Protein Crystal Growth-Enhanced Gaseous Nitrogen (PCG-EGN): In
progress. All is nominal crystals are growing.
Materials ISS Experiment (MISSE): Nominal and collecting
data.
Educational Payload Operations (EPO): Complete.
Active Rack Isolation System – Isolation Characterization
Experiment (ARIS-ICE): This has been a big week for ARIS
and ARIS-ICE, as the POC (Payload Operations Center/Huntsville) has
successfully run a series of ARIS tests for the first time.
This is very important since it is the way ARIS will be
operated once ARIS-ICE operations end at UF-2. Next week there
will be a few crew activities to reconfigure ARIS for ICE control and
install the ARIS GN2 umbilical again, which will allow POC to fini">D
up the last two weeks of ARIS-ICE testing and prepare for on-going
ARIS operations after UF-2.
EarthKAM: Currently complete. All EarthKAM images
are available for public access on the EarthKAM data system at: http://EarthKAM.sdsc.edu/cgi-bin/datasys/ek_images_station
Zeolite Crystal Growth (ZCG): Complete.
ARCTIC Refrigerator/Freezer (ARCTIC): The ARCTIC unit is
performing nominally.
Biomass Production System-Photosynthesis Experiment & System
Testing Operation (BPS-PESTO): Overall, the BPS
experiment has been very successful thus far. Accomplishments to date
have been five on-orbit wheat harvests, one on-orbit Brassica
rapa harvest, three on-orbit plantings of wheat with greater than
90% germination, a planting of Brassica rapa, multiple gas
samples, and tissue fixations. Dan Burschâs skill at operating the
BPS and restoring nominal operating conditions has allowed all
automated tests in plant growth chambers (PGCs) 1 and 3 to be
obtained from the wheat plants that he started on orbit. The gross
morphology of the plants from the past five harvests appears to be
very similar to that observed during ground studies. Over 1700
on-orbit images have been collected, not including numerous
photographs taken during harvests. The Validation and PESTO
teams thanked Dan for his exceptional support of the wheat plants in
the BPS chamber while on the ISS. His attention to detail,
observations, and skill have resulted in the majority of science
objectives of the first half of the mission being accomplished. Dan's
insights during all crew operations, including the swap of chambers
at the halfway point of the experiment, has increased dramatically
our operational knowledge for growing and maintaining plants in
microgravity.
Commercial Protein Crystal Growth-High Density (CPCG-H):
CPCG-H crystal growth continues nominally.
Commercial Generic Bioprocessing Apparatus (CGBA): The
CGBA experiment continues to function nominally. At this point,
24 of the planned total of 48 antibiotic samples have been
autonomously taken in the payload. Temperature control and
sampling activities were confirmed via downlinked telemetry.
Dan Bursch received thanks for the great on-orbit photo with
CGBA.
Crew Earth Observation (CEO): The ground team
appreciates the crew's codifying their photo log procedures for the
Expedition 5 crew — that will be a great help to all concerned.
Thanks to the crew's prompt response to the ground's request for
documentation of the Central American fires, one of their images of
Guatemala and Belize has already been published on the NASA Earth
Observatory website. The ground just received notice of the crew's
photos of fires in California and Mexico and is looking forward to
seeing more of their fine work.
Today's CEO target areas (optional) were Cape Verde Islands,
Dust (dust is also moving westward from the Sahara over the
eastern Atlantic. As ISS approached the Cape Verde Islands, crew was
to look ahead and right of track to photograph dust over the islands.
Normally exposed frames taken against the backdrop of the sea will
permit estimates of dust blanket thickness), Angolan Biomass
Burning (brisk winds off west-central Africa were holding the
clouds well offshore and carrying smoke from agricultural burning out
to sea. Crew was to look left of track to record smoke traveling
seaward from the Skeleton Coast), Eastern United States
(Okefenokee Swamp fires continue to burn, and more than 52,000
acres are charred at present. Just to the right of track the crew
could see a large burn scar; they were asked to document the burned
area, as well as smoke plumes from still-burning fires), Lake
Poopo (this pass, in combination with ISS attitude, permitted
the crew to take a southwesterly panorama across the salars of the
Altiplano. Current thought is that an El Nino event is taking shape,
although conditions are expected to be less extreme than during the
previous episode. A synoptic view of Lago de Poopo, Salar de Uyuni
and Salar de Coipasa will further expand our time series of photos of
this climatologically significant region).
CEO images can be viewed at the website http://eol.jsc.nasa.gov
ISS Orbit (as of this morning, 7:44 am EDT [=
epoch]):
Mean altitude — 389.1 km
Apogee — 393.7 km
Perigee — 384.6 km
Period — 92.3 min.
Inclination (to Equator) — 51.63 deg
Eccentricity — 0.000674
Orbits per 24-hr. day — 15.59
Altitude decrease — 200 m (mean) in last 24 hours
Revolutions since FGB/Zarya launch (Nov. '98) — 19939
Current Flight Attitude — XPOP (x-axis perpendicular to orbit
plane = "sun-fixed" [yaw: ~180 deg, pitch: -5.6 deg., roll: 0
deg]).
For more on ISS orbit and naked-eye visibility dates/times, see http://www.hq.nasa.gov/osf/station/viewing/issvis.html