ISS On-Orbit Status 18 Jul 2002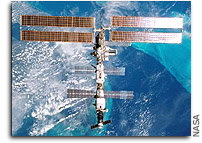 All ISS systems continue to function nominally, except as noted previously
or below.
The crew was complimented on and thanked for their hard work and patience in
preparing the great video documentation of the MedOps emergency procedures
drill and the CDRA installation yesterday. The ground is looking forward to
the restoration of the MSG (microgravity science glovebox) rack to its full
operating status in the coming days.
CDR Valery Korzun and FE-2 Sergei Treschev continued and finished
installation of six special cargo partitions/enclosures in FGB cargo stowage
positions behind wall panels. These containers ensure that stowed goods will
not inadvertently block airflow patterns in the FGB, thus interfering with
thermal conditions.
After further troubleshooting of the MSG/SAMS (space acceleration
measurement system), ground specialists now believe that they have isolated
the data problem to a file on the ICU. A software upgrade that is scheduled
for tomorrow (7/19) may fix the problem. There are no further
troubleshooting steps planned until after the s/w upgrade is complete.
On the MSG/SUBSA troubleshooting: Because SAMS data is not available, the
preflight-scheduled SUBSA activities for today were replaced with a SUBSA
EPF (experiment parameter file) test operation, in order to verify the
ability to uplink and process an updated EPF and to exercise SUBSA ground
commanding. Peggy Whitson used the data file from the SUBSA-5 experiment to
provide the parameters for this run.
FE-1 Whitson was also to conduct MEPS (Microencapsulation Electrostatic
Processing) activation and experiment runs 1-5, i.e., five
microencapsulation experiments. [The first four PCM (processing chamber
module) runs encapsulate a photodynamic therapy drug [BDP] that is used to
treat cancer of the esophagus, stomach and colon. The fifth PCM run
encapsulate DNA extracted from genetic-engineered bacteria. Process control
data were to be logged on each PCMCIA storage card, while fluid jetting flow
patterns were recorded on videotape for post-flight analysis of fluid shear
levels and microcapsule production under different experiment conditions.]
Yesterday, the TCCS (trace contaminant control subassembly) in the Lab AR
(atmosphere revitalization) rack shut down when a low airflow fault was
detected. Initial speculation pointed to a flow sensor failure or a possible
air blockage. The TCCS was successfully restarted later and was back at full
operating temperature by about 5:00am EDT today.
CDR Korzun was scheduled to perform his session of the weekly NTXN
Interactions data collection today, filling out a mood, group and journal
questionnaire on the HRF (human research facility) PC.
Peggy Whitson started EMU battery discharge in the BSA and Metox canister
regeneration in the Airlock oven.

CDR Korzun and FE-2 Treschev completed another session with the Russian
MedOps experiment MO-1 (study of the bioelectric activity of heart at rest),
taking turns as subject and assistant. On special request by MCC-M, they
photographed two scenes showing the subject wearing medical equipment during
the test, using the Nikon F5 35 mm SLR camera.
FE-1 Whitson completed her weekly FFQ (food frequency questionnaire), which
keeps a running account of her nutritional intake.
Peggy also continued SSAS (solid sorbent air sampler) operations and stowed
the passive FMK (formaldehyde monitoring kit) sampling badges which
collected atmospheric formaldehyde on a sampling substrate for analysis in
JSC laboratory facilities.
Sergei Treschev started the regeneration (bake-out) cycle for absorbent bed
#1 of the BMP micropurification unit in the SM. Filter bed #2 remains in
Purify mode.
ADVASC (advanced astroculture) photo taking has been added to the "job jar"
task list for FE-1 Whitson today, with a hard scheduled date of 7/24. The
ground is very interested in getting photos of the soybean blossoms as soon
as possible. The plants are growing at a faster-than-expected rate and there
is concern that the blossoms may be using up too much of the nutrient. After
reviewing the photos, it may be decided to diminish the amount of nutrient
and save more for the seeds based on the maturity of the blossoms.