ISS On-orbit Status 18 Aug 2002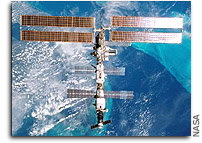 All ISS systems continue to function nominally, except as noted previously or below.   It is Day 64 of Expedition 5 on board the station.  Ahead: Week 11.
Second weekend rest day for the crew, with a minimum of scheduled tasks.
All crewmembers jointly completed the weekly housecleaning of their home, today for three hours.  This is normally a Saturday job, but yesterday the crew enjoyed a rest period after Friday's EVA-7.
FE-1 Peggy Whitson performed cable replacement on the RED (resistive exercise device), a periodic routine maintenance.
Routine servicing tasks were performed by FE-2 Treschev (SOSh life support systems maintenance), and FE-1 Whitson (off-day payload status checkup, transfer of TVIS/RED/CEVIS files to the medical equipment computer).
Treschev also took readings of the SP toilet flush and SVO water supply counters for calldown to MCC-M.
After the discharge of the EMU spacesuit batteries was completed yesterday in an EMU backpack, configured by Peggy Whitson to simulate the current draw of an EVA, their recharge was completed today.  Peggy then placed them in the BSA (battery stowage assembly), for MCC-H to monitor their voltage and assess their health.  Since it appears that discharging the EMU batteries in the BSA is unpredictable, MCC-H has decided to wait on further troubleshooting attempts.
All crewmembers completed their daily physical exercise on TVIS and VELO plus load trainer.
The crew also had their weekly PFCs (private family conferences), on Ku-band (TV) and S-band (audio).
Science Update (Expedition Five — 10th):
The crew was congratulated on Friday's EVA, and Lead Increment Scientist Vic Cooley sent apologies for the troubles with the MSG payloads (see below).
Extra-Vehicular Activity Radiation Monitors (EVARM):  Next EVARM session has slipped to 9/3.
GASMAP/Pulmonary Function in Flight (PuFF):   The PuFF team appreciated the crew's post-EVA PuFF session.
Renal (Kidney) Stone Experiment:   In progress.
Interactions (NTXN):  Continuing.
Human Research Facility/Workstation (HRF WS):   n/a
Commercial Refrigerator Incubator Module-Commercial Stelsys (STELSYS):  Experiment is complete and samples are stowed in frozen state in ARCTIC-1. "Waiting for a ride home".
/
Microencapsulation Electrostatic Processing (MEPS):  Complete.  To be returned on 9A.
Advanced Astroculture (ADVASC):  In progress.  ADVASC is nominal, thanks to completion of the ADVASC Nutrient Exchange this week.
Solidification Using a Baffle in Sealed Ampoules (SUBSA):  The ampoule which cracked during the cool-down phase of the experiment on 8/10 (SUBSA-07) was the first sample processed to contain a liquid encapsulant.  Based on analysis of the video and temperature data, it appears the encapsulant prevented the indium antimonide from solidifying directionally. However, an official and final determination of the cause will not be known until the anomaly investigation is complete. The ground team is looking forward to implementing a clean up procedure and resuming SUBSA very soon. To the crew: "Thank you for all your help with this experiment".
Pore Formation and Mobility Investigation (PFMI):  New payload for Increment 5 will be performed during Stage 9A.
Space Acceleration Measurement System (SAMS):  This week SAMS performed trouble shooting procedures to isolate and fix a data collection problem with the ICU (interface control unit), which caused periodic gaps in acceleration data.  Full acceleration collection capabilities were restored in time to fully capture EVA-7 activities with a cut-off of 400Hz.
Microgravity Acceleration Measurement System (MAMS):  MAMS is collecting quasi-steady data for general characterization. Attitude maneuvers for EVA and transition to LVLH were captured.  Data during EVA will be scanned for effects of SSRMS operations and crew activity during the EVA.
Active Rack Isolation System (ARIS) Support:  n/a
Protein Crystal Growth-Single Locker Thermal Enclosure System (PCG-STES):  PCG STES-008 is performing nominally with a temperature reading of 21.77 deg C.
Materials ISS Experiment (MISSE):  In progress. Deployed outside. Nominal and collecting data.
Educational Payload Operations (EPO):  Completed.
EarthKAM:   Planned.  Will be performed during Stage 9A.  
Zeolite Crystal Growth (ZCG):  Complete.  Samples are unloaded and stowed.
ARCTIC Refrigerator/Freezer 1 (ARCTIC-1):  Stelsys samples are holding nominally at -21.0 deg C.
ARCTIC Refrigerator/Freezer 2 (ARCTIC-2):  ZCG autoclaves are holding nominally at +5°C.  The ground team is currently working up a troubleshooting plan to be carried out during 9A stage.
Commercial Generic Bioprocessing Apparatus (CGBA):  Will be performed during Stage 9A.
Crew Earth Observations (CEO): Today's targets were Jakarta, Indonesia (Jakarta city region right of track.  Oblique views left for fires raging in Sumatra; then one minute later look right for numerous fires in western Borneo), Congo-Zimbabwe Biomass Burning (oblique views left and right of track for this highly flammable savanna vegetation. Crew was to look right for a good perspective of West Africa's rift valley occupied by Lake Malawi), Sudanese dust (dust activated over NE Sudan is producing a plume over the Red Sea.  Crew to look right for shots of the dust against the sea, and to shoot the source point of the dust if at all possible), Baghdad, Iraq (crew was to look left and right of track for views of the core region of Iraq), Sao Paulo, Brazil (megalopolis right of track.  Crew to try to include margins of the city), Algiers, Algeria (port city right of track), Rome, Italy (entire urban region of the lower Tiber valley, right of track), and La Paz (Bolivia's second capital city, left of track.  City lies above and below lip of great escarpment on the east side of the Andes–near south end of Lake Titicaca).
CEO images can be viewed at the website http://eol.jsc.nasa.gov