ISS On-Orbit Status 12 Aug 2002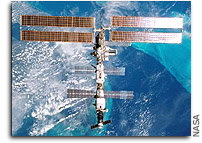 All ISS systems continue to function nominally, except as noted previously or below. Week 10 for the Expedition Five crew is underway.
Station sleep cycle shifted back another two hours, resetting the onboard workday six hours earlier than usual. Crew wakeup now is at 8:00 pm (all times EDT); sleep period begins at 11:30 am and shifts to 9:30 am on 8/15 (Thursday). EVA day (8/16) will then start at 8:00 pm the night before; hatch open: 3:40 am, hatch closure:  9:35 am (est.), and workday ending at 2:10 pm
The crew continued preparations for EVA-7, while consulting with MCC-Moscow ground specialists via VHF and S-band. [Today's work focused on activation and visual inspection of the Orlan-M space suits ("skafandri"), including (1) installation of the Orlan telemetry units (BRTA) on the backpacks, (2) testing the suit interface control units (BSS) in both DC-1 airlock/docking module and PkhO Transfer Compartment, (3) cleaning and preparing the BSS fluid umbilical in the PkhO via the BOS filtration and water/gas separation unit, (4) breaking out and checking the water cooling systems for the DC-1 BSS and the Orlans, including leak checking of the reserve bladders, (5) readying Orlan components and spares, such as filters and LiOH canisters, (6) adjusting Korzun's and Whitson's suit sizes to their individual height requirements, and (7) preparing other equipment for the spacewalk, including individual clothing items. Valery and Peggy have Orlans #14 and #23 assigned to them, while Sergei, who will perform the second spacewalk on 8/23 with Korzun, has suit #12.]
It was FE-2 Treschev's turn today as subject for the mandatory 30-min. Russian pre-EVA crew health procedure MO-6 (hand-cycle ergometry), with CDR Korzun acting as operator. [TsUP/IBMP (MCC-Moscow/Institute of Biomedical Problems) physical fitness experts have made the tolerance hand grip test analysis (hand ergometry) a standard pre-EVA requirement, when previous cosmonauts showed noticeable decrease in arm muscle tone. MO-6 today required Treschev to don the ECG (electrocardiogram) biomed harness, attach three skin electrodes and plug the harness into the PKO medical exam panel on the cycle ergometer. The exercise itself started after 10 seconds of complete rest, by manually rotating the cycle's pedals, set at 150 W, backwards until "complete exhaustion".]
FE-1 Peggy Whitson completed the periodic engineering inspection of the RED (resistive exercise device).
All crewmembers completed their daily physical exercise program on TVIS (treadmill), RED and VELO (cycle ergometer).
Daily routine servicing tasks were performed by FE-2 Sergei Treschev (maintenance of SOSh life support systems in the Service Module, preparation of daily inventory update file) and FE-1 Whitson (status checkup of autonomous Lab payloads).
Task list items for the crew now include battery inspection of the portable fan assembly, troubleshooting of the EVA battery chargers in the Joint Airlock, videotaping of BCR (barcode reader) troubleshooting, and inventorying of the CCPK (crew contamination protection kit) as well as EXPRESS Rack power/data cables.
Tomorrow morning (8:55 am EDT) the crew is scheduled to downlink a PAO audio/video message for the 166th birthday of the City of Houston, Texas. The birthday occurs on 8/30, and the crew's message is to be replayed at the formal reception/dinner celebrating the event on 9/4 at the Hyatt Regency downtown.
CEO (crew earth observation) targets today were Lake Eyre, Australia (water levels fluctuate on multi-year cycles weakly linked to ENSO cycles), Kabul, Afghanistan (nadir pass over this city of 1.42 million which lies in one of the largest valleys in the Hindu Kush Mts.), Urumqi, China (this rough oil town in China's Islamic far west [1.2 million souls ten years ago] has experienced a rebellion or two against central authority thousands of km from Beijing. Crew was to look right against the foot of the mountains), Kinshasa, Rep. of Congo (crew was advised to look right of track. Kinshasa, Congo's capital, lies on the south side of the river at the wide point known as Stanley Pool. Kinshasa [7.4 million] is larger than the entire neighboring country of Congo-Brazzaville on the north side of Stanley Pool), Baghdad, Iraq (lies between the Euphrates and Tigris Rivers just left of today's track [5.6 million]), Buenos Aires, Argentina (good views off to the right. Greater Buenos Aires [13 million], home to about one third of Argentina's population, is a classic case of a super-dominant capital city in the style of Paris), Sao Paulo, Brazil (good views of the massive conurbation off to the right. Sao Paulo rivals Mexico City in size [23 million] as the largest city in the world), Lake Poopo (handheld photos reveal an apparent correspondence between ENSO cycles and water levels in this sensitive lake ([it has no outlet to the sea]. As the new El Nino ramps up [declared official as of July 2002], past photographic data suggests that this full lake [at nadir] will immediately start a slow decline in size, which the crew should be able to document during Increment 5), and Lower Amazon River Basin (this site remains as clear as it gets. Science interest lies in the shape and position of islands in the Amazon estuary).
CEO images can be viewed at the website http://eol.jsc.nasa.gov
U.S. and Russian Segment Status (as of 10:30 am EDT):
Environmental Control and Life Support (ECLSS) and Thermal Control (TCS):



Elektron O2 generator is powered On (32-amp mode), on backup pump. Vozdukh CO2 scrubber is ON in MANUAL cycle mode #5, i.e., 10-min. cycle time (vacuum pump failed). U.S. CDRA CO2 scrubber is on Override. BMP Harmful Impurities unit: Absorbent bed #1 in Purify mode, bed #2 in Purify mode.

Electrical Power Systems (EPS):



Beta Gimbal Assembly (BGA) 2B and BGA 4B in directed position (Blind mode, non solar-tracking).

SM batteries: Battery #1 is off-line; all other batteries (7) are in "Partial charge" mode.

FGB batteries:  Battery #5 is off-line; all other batteries (5) are in "Partial charge" mode.

Plasma Contactor Unit PCU-1 in Standby mode; PCU-2 in Standby mode.

Thermal Control Systems:



Air conditioner SKV-1 is On. SKV-2 is Off.

Command & Data Handling Systems:



C&C-3 MDM is prime, C&C-2 is back-up, and C&C-1 is in standby.

GNC-1 MDM is prime; GNC-2 is Backup.

LA-1, LA-2 and LA-3 MDMs are all operating.

PL-1 MDM is operational; PL-2 MDM is Off.

APS-1 (automated payload switch #1) and APS-2 are both On.

SM Terminal Computer (TVM): 3 redundant lanes (of 3) operational.

SM Central Computer (TsVM): 3 redundant lanes (of 3) operational.

Attitude Source:



3 CMGs on-line.

State vector — US GPS (SIGI string 1)

Attitude — Russian segment

Angular rates — US RGA1 (rate gyro assembly 1)

Communications & Tracking Systems:



All Russian communications & tracking systems are nominal.

S-band is operating nominally.

Ku-band is operating nominally.

Audio subsystem operating nominally.

Video subsystem operating nominally.

MCOR (medium-rate communications outage recorder) is operating nominally.

Robotics:



SSRMS/Canadarm2 at MBS PDGF 1 (mobile base system/power & data grapple fixture 1), in EVA-7 viewing position, with Keep Alive power on both strings (based on MBS).

MBS:  Keep Alive power on both strings.

RWS (robotics workstations): Lab RWS is Off; Cupola RWS is Off.

ISS Orbit (as of this morning, 5:21 am EDT [= epoch]):



Mean altitude — 394.8 km

Apogee — 406.7 km

Perigee — 382.9 km

Period — 92.4 min.

Inclination (to Equator) — 51.64 deg

Eccentricity — 0.0017573

Orbits per 24-hr. day — 15.57

Altitude decrease — 120 m (mean) in last 24 hours

Solar Beta Angle — 0.0 deg (magnitude decreasing)

Revolutions since FGB/Zarya launch (Nov. '98) — 21279

Current Flight Attitude — LVLH (local vertical/local horizontal = "earth-fixed": z-axis in local vertical, x-axis in velocity vector [yaw: -10 deg, pitch: -7.8 deg, roll: 0 deg]).

For more on ISS orbit and worldwide naked-eye visibility dates/times, see
http://www.hq.nasa.gov/osf/station/viewing/issvis.htm