ISS On-Orbit Status 1 Jul 2002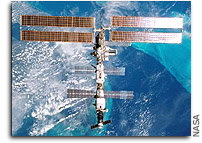 All ISS systems continue to function nominally, except as noted previously
or below. Week 4 for Expedition 5 is underway, with planned weekly workhours
to be 196h 48m (crew total).
Today was second off-duty day for the crew, with a minimum of scheduled
routine tasks and, of course, unloading of Progress cargo (having already
added to the crew's enjoyment with fresh apples and peanut butter). Instead
of today, the crew performed the Progress/SM docking mechanism disassembly
on 6/29 (Saturday), to facilitate Progress unloading over the weekend.
CDR Valery Korzun and FE-2 Sergei Treschev completed another one-hour
session of the Russian/Japanese HDTV (high-definition television) experiment
(NZ-HDTV-MO-1,2). The medical/psychological investigation captures the
subject's face in close-up (from eyes to lips) during a specific activity,
today while being "interviewed", not during a treadmill run. The video was
taped, and TV downlink to Moscow was not required.
Korzun terminated the regeneration bake-out of the BMP micropurification
unit filter cartridge #2, an important part of the Service Module (SM)'s
atmosphere revitalization system (SOGS). Both recyclable absorption beds are
now back in Purify mode.
FE-1 Peggy Whitson performed the regular daily servicing tasks: SOSh life
support system maintenance, IMS delta file preparation for downlink, and
payload status check. [Update: There are now five floor-to-ceiling EXPRESS
experiment racks (ERs) in the Lab, providing experiments with basic
utilities such as power, communications, cooling, and fluids. Two racks
(ER2, ER3) are equipped with the ARIS active rack isolation system for
protecting delicate micro-G experiments from vibrations caused by crew
movement and operating equipment. A new addition to the Lab's rack family is
the MSG (Microgravity Science Glovebox), a sealed container with built-in
gloves and an airlock that enable crews to do more hands-on science
involving fluids, flames, particles, and fumes.]
During the MSG facility checkout on 6/29, Peggy overcame a little snag when
she was unable to lock the facility in any of the expected positions (fully
deployed, partially deployed, fully stowed). It turned out that a step, to
rotate a cam on the locking mechanism, had been left out of the procedure
write-up. When this was corrected, Whitson successfully completed the MSG
locking activity.
Peggy was also scheduled to power-cycle (turn off/on) the IV-CPDS
(intravehicular charged particle directional spectrometer) to enable its
ground commanding.
A new item was added to the Russian onboard task list for today (at crew's
discretion): photographing the "Kromka" experiment located outside the SM on
the GZU plume deflector "+T". [The Kromka collects effluent samples from the
toxic plumes of the SM's attitude control thrusters for later analysis. The
cosmonauts were asked to use the Kodak 760 DSC (digital still camera) to
take pictures of the deployed tablet from the EVA hatch 1 window of the DC-1
docking module.]
MCC-Houston uplinked a logic change to the onboard LOAC (loss of attitude
control) powerdown warning procedure for immediate implementation by the
crew, in order to assure continued operation of two control moment
gyroscopes (CMGs) in the event of loss of one of the two power supply
channels. In this case, with the old before-change procedure, both CMG-2 and
CMG-3 would have been powered down, leaving only CMG-4 in control. The
updated procedure assures that an inadvertent loss of power would affect
only CMG-2 and CMG-1, with the latter already being inoperable.
Overnight, MCC-H successfully repressurized the PPA (pump package assembly)
accumulators of both ITCS LTL and MTL channels (internal thermal control
system, low temperature loop, moderate temperature loop) in the US segment
with nitrogen gas. [Because of numerous fluid samplings, rack installations
and fine filter replacements during the UF-1 stage, accumulator pressure has
gradually decreased, impacting the ability of the PPAS gas trap to
effectively remove air in the system. The repress is to be done
automatically, but the involved onboard software is currently inhibited
until the coming ULF-1 software load.]
Later tonight (6:48pm EDT), the ISS will maneuver on CMGs from its present
XPOP TEA (x-axis perpendicular to orbit plane–torque equilibrium attitude
[currently Yaw/Pitch/Roll = -1.2 deg/-7.4 deg/0 deg]) to XPOP -0.5/-1.3/-0.2
to allow MCC-Moscow to conduct the periodic efficiency test of the Russian
solar arrays, designed to track their energy productivity as a function of
exposure to detrimental radiation. At about 2:30am tomorrow morning, the
station will return to XPOP TEA and momentum management.
Also tomorrow morning, at 9:34am EDT, the crew is scheduled for two live
televised PAO events with stations KCCI-TV in Des Moines, Iowa, and KCRG-TV
in Cedar Rapids, IA.
Russian ground controllers were to evaluate FGB battery #6 today, which on
Saturday showed an unexpected voltage signature and took itself off the
line. There is no power balance issue at this time.
Today's target areas for the U.S. CEO (crew earth observation) program were
Tropical Depression (Dynamic Event Site: This weather system was forecast to
be in the vicinity of this target area and approaching typhoon strength. Of
interest: using the ESC [electronic still camera] to try for context photos
only unless organization and structures such as an "eye" were visible), Lake
Nasser, Toshka Lakes; Egypt (this pass offered the possibility of dramatic
sun glint views of Lake Nasser, the Nile and the new lakes to the right of
track), Angolan Biomass Burning (as this pass descended into darkness, the
crew was to try for oblique views to the right of track to catch sunlit
smoke plumes over the darkening land surface below), Canadian Rocky
Mountains (on this pass the crew was to look northward, to the left of track
for context views of this target area. Relief was somewhat enhance by
shadowing of the lower sun today. A second pass presented another
opportunity to map the details of the small ice fields and glaciers of this
target area, using the long lenses of the ESC), Alberta Fires (Dynamic Event
Site: Weather satellites are detecting numerous fires in the remote boreal
forests of the Canadian Prairie Provinces, especially Alberta. Views from
the ISS were oblique, well to the left of track. ESC was requested).
CEO images can be viewed at the website http://eol.jsc.nasa.gov
U.S. and Russian Segment Status (as of 2:13 pm EDT):
Environmental Control and Life Support (ECLSS) and Thermal Control (TCS):
Elektron O2 generator is powered On (24-amp mode). Vozdukh CO2 scrubber is
ON in MANUAL cycle mode #5 (vacuum pump failed). U.S. CDRA CO2 scrubber is
Off (failed). BMP Harmful Impurities unit: Absorbent bed #1 in Purify mode,
bed #2 in Purify mode.
Electrical Power Systems (EPS):



Beta Gimbal Assembly (BGA) 2B in Autotrack mode; BGA 4B in Autotrack mode.

SM batteries: Battery #1 reported failed (6/21). All other batteries (7) are
in "Partial charge" mode.

FGB: Battery #6 is offline. All other batteries (5) are in "Partial charge" mode.

Plasma Contactor Unit PCU-1 in Standby mode; PCU-2 in Standby mode.

Thermal Control Systems:



Air conditioner SKV-1 is On. SKV-2 is Off.

Command & Data Handling Systems:



C&C-3 MDM is prime, C&C-2 is back-up, and C&C-1 is in standby.

GNC-1 MDM is prime; GNC-2 is Backup.

LA-1, LA-2 and LA-3 MDMs are all operating.

PL-1 MDM is operational; PL-2 MDM is Off.

APS-1 (automated payload switch #1) and APS-2 are both On.

SM Terminal Computer (TVM): 2 redundant lanes (of 3) operational.

SM Central Computer (TsVM): 2 redundant lanes (of 3) operational.

Attitude Source:


3 CMGs online in USOS

State vector — US GPS (SIGI string 1)

Attitude — Russian

Angular rates — US RGA1 (rate gyro assembly 1)


Communications Systems:



All Russian communications & tracking systems are nominal.

S-band is operating nominally.

Ku-band is operating nominally.

Audio subsystem operating nominally.

Video subsystem operating nominally.

MCOR (medium-rate communications outage recorder) is powered Off (due to consistently reaching upper operational temperature during ops).

Robotics:


SSRMS/Canadarm2 at MBS PDGF (mobile base system / power & data grapple
fixture) and Lab PDGF, with Keep Alive power on both strings.

MBS: Operational on Redundant string, keep-alive power on Prime string..

RWS (robotics workstations): Cupola is Active, Lab RWS is Off.

ISS Orbit (as of this morning, 8:01 am EDT [= epoch]):


Mean altitude — 392.1 km

Apogee — 397.5 km

Perigee — 386.6 km

Period — 92.4 min.

Inclination (to Equator) — 51.64 deg

Eccentricity — 0.000805

Orbits per 24-hr. day — 15.58

Altitude decrease — 130 m (mean) in last 24 hours

Solar Beta Angle — -22.7 deg (magnitude decreasing)

Revolutions since FGB/Zarya launch (Nov. '98) — 20626

Current Flight Attitude — XPOP (x-axis perpendicular to orbit plane =
"sun-fixed" [yaw: -1.2 deg, pitch: -7.4 deg., roll: 0 deg]).

For more on ISS orbit and naked-eye visibility dates/times, see
http://www.hq.nasa.gov/osf/station/viewing/issvis.html