ISS Crew Wraps Up 2002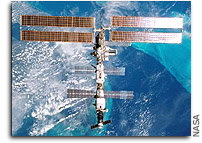 Aboard the International Space Station, Expedition Six Commander Ken Bowersox, Flight Engineer Nikolai Budarin and NASA ISS Science Officer Don Pettit wrapped up 2002 with training and routine maintenance and checks. Pettit took computer-based training for the Human Research Facility's ultrasound equipment in preparation for a test that is slated to take place Thursday.
Budarin took a photo survey of the Zvezda Service Module's docking assembly. Bowersox checked the station's portable breathing masks and fire extinguishers and took inventory of CDs for the station's support computer. Pettit also took routine carbon dioxide readings in the station.
The New Year will officially begin for the Expedition Six crew at 0000 GMT Wednesday, which is at 6 p.m. CST Tuesday. Wednesday will be a light day of duty aboard the orbital outpost.