ISS Crew Begins Third Month in Space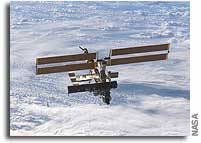 The Expedition Six crew returned to a full workload Monday after enjoying a relatively quiet Sunday aboard the International Space Station. In addition to beginning a new workweek, Monday was the start of the third month in space for Commander Ken Bowersox, Flight Engineer Nikolai Budarin and NASA ISS Science Officer Don Pettit.
Monday's activities included the replacement of smoke detectors throughout the station. The crewmembers continued science operations Monday by unloading samples for the Zeolite Crystal Growth experiment, which allows scientists to grow larger and better-formed crystals in space than those grown on Earth. Expedition Six has completed its scheduled work with the crystal experiment.