International Space Station Repair Spacewalk Planned for Friday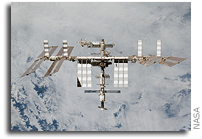 NASA has decided to wait until Friday to conduct a spacewalk to replace a failed ammonia pump module on the International Space Station.
Mission managers, program managers, flight controllers, engineers, astronauts and spacewalk experts made the decision Monday evening after continuing to analyze and refine engineering requirements, and reviewing the results of an underwater practice session.
Expedition 24 astronauts Doug Wheelock and Tracy Caldwell Dyson currently are scheduled to start the repairs on the station's starboard truss Friday. Fellow astronauts Cady Coleman and Suni Williams spent the afternoon in the Johnson Space Center's Neutral Buoyancy Laboratory practicing underwater the tasks needed to restore the cooling loop over the course of two spacewalks.
Meanwhile, robotics experts are continuing to refine the procedures that will be used by Expedition 24 flight engineer Shannon Walker to guide Canadarm2 as she moves Wheelock into position to swap the failed unit with a spare unit currently stored on External Stowage Platform 2. That spare parts carrier is attached to the Quest airlock that Wheelock and Caldwell Dyson will use to exit and reenter the station.
The station today remains in a stable configuration. The crew is on a normal sleep shift, and supporting a normal workday, but most of their planned activities this week have been cancelled or deferred in order to support spacewalk preparations.
Plans are in work to move the station's Mobile Transporter into position on the Starboard 1 truss on Tuesday. With the Mobile Transporter positioned early, the team will be able to gather additional data to confirm power resources are sufficient to use the arm to support the spacewalk.
Each pump module weighs 780 pounds and is 5