International Space Station Crew Presses Forward with Busy Weekly Schedule Ahead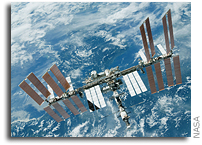 NASA TV Commander Scott Kelly calibrated a conductivity sensor that tests water delivered to the station's Oxygen Generation System (OGS) Friday. Since the electrical conductivity of water is increased by the presence of typical contaminants, these sensors test the purity of water produced by the Water Recovery System. The OGS uses this water to generate oxygen for the crew.
Kelly also performed some maintenance on the Advanced Resistive Exercise Device, part of the crew's complement of exercise equipment.
Flight Engineer Catherine Coleman worked with the Integrated Cardiovascular (ICV) experiment in the Columbus laboratory. ICV researches the extent of cardiac atrophy and seeks to identify its mechanisms.
Coleman also finished changing out the Low Gradient Furnace for the Solidification and Quenching Furnace in the Materials Science Laboratory located in the Materials Science Research Rack in the U.S. Destiny laboratory. The rack enables the study of the properties of matter and substances by providing hardware to control the thermal, environmental and vacuum conditions of experiments, monitor experiments with video and supply power and data handling for specific experiment instrumentation.
European Space Agency astronaut Paolo Nespoli, also a flight engineer, inserted blood and urine samples into the Human Research Facility (HRF) and operated the HRF's centrifuge. He then placed the samples in the Minus Eighty-Degree Laboratory Freezer for ISS.
The Russian members of the International Space Station's Expedition 26 crew enjoyed off-duty time Friday in observance of the Russian Orthodox Christmas holidays.
Space Shuttle Program managers are discussing late February launch dates for Discovery's STS-133 mission to the orbital complex as repairs to small cracks on the spacecraft's external tank continue.