Information Circular NASA MEPAG Meeting February 20-21, 2008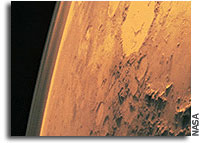 1st Information Circular
MEPAG Meeting
February 20-21, 2008

Letter of Invitation
Members of the Mars community,
I cordially invite you to attend the next meeting of the Mars Exploration Program Analysis Group (MEPAG), scheduled for February 20-21, 2008 at the Doubletree Hotel, Monrovia, California.
Key agenda topics will include:
Mars Program / Missions Status. Discussion of the president's budget (to be released early February). Mars program status and future planning, including potential international collaborations. Update on mission status, particularly the MSL landing site selection activities.

Outbriefs from MEPAG Science Analysis Groups (SAGs).

MSL Cache SAG (jointly sponsored with the NASA Astrobiology Institute). Analysis of the expected scientific value of the MSL cache, as input into planning the necessary capability of MSR.

Next Decade Science Analysis Group (ND-SAG). Preliminary findings related to the scientific planning for the next decade of Mars exploration including Mars Sample Return.

Human Exploration of Mars Science Analysis Group (HEM-SAG). Report on the scientific planning for the initial human missions to Mars.

Mars Science Orbiter Science Definition Team (MSO SDT). Status, conclusions.

MEPAG Goals Document. Review and discussion of proposed revisions to the MEPAG Goals Document.

MEPAG Work Plan for 2008. Planning for additional analysis work regarding options for the 2016-2020 opportunities, including MSR.
If you have a specific request for time on the agenda on matters of general interest, please correspond with either me ([email protected]) or Dr. David Beaty ([email protected]) by the end of December, 2007, when we plan to finalize the detailed meeting agenda. Note that we expect the meeting to be rather full and we are currently planning to adjourn at 5 PM on February 21.
This meeting is important, occurring at a critical juncture in the Mars Exploration Program. As has been our policy, the meeting is open to all members of the Mars science community, including international colleagues. I hope you can attend.
Sincerely,
Dr. Jack Mustard MEPAG Chair