Image: Cyprus As Seen By Envisat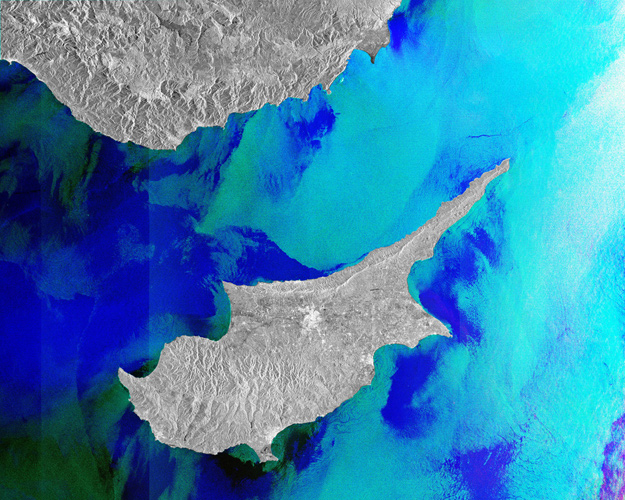 Covering part of the Eastern Mediterranean this Envisat image is dominated by the island of Cyprus, a former British colony that became independent in 1960.
The island was shaped from the collision of the African and European tectonic plates. It is located on the Anatolian plate and therefore belongs geologically to Asia.
It is also the legendary birthplace of Aphrodite, the goddess of love and beauty. The Troodos mountains dominate the centre of the island and include Mount Olympus, the country's highest mountain at 1952 m.
The smaller Kyrenia Range extend along the northern coast. Since 1974 the island has been split between the Greek Cypriot and Turkish Cypriot populations. The line of the separation runs through the capital and largest city, Nicosia, which is located near the centre of the image.
Around Nicosia we see a concentration of white specks. This is the typical appearance of built-up areas in radar images, since the radar beam is reflected by buildings and other constructions. Similar concentrations are seen south east of Nicosia, where the seafront city of Larnaca lies, and further west along the coast to Limassol.
Limassol is the island's second largest city and sits on the Akrotiri Bay. It is the largest Cypriot port in Mediterranean transit trade. This image is a compilation of three images from Envisat's radar, acquired on 27 September, 27 October and 26 November 2011. Larger image