Image: Australia's Kimberley Region As Seen From Space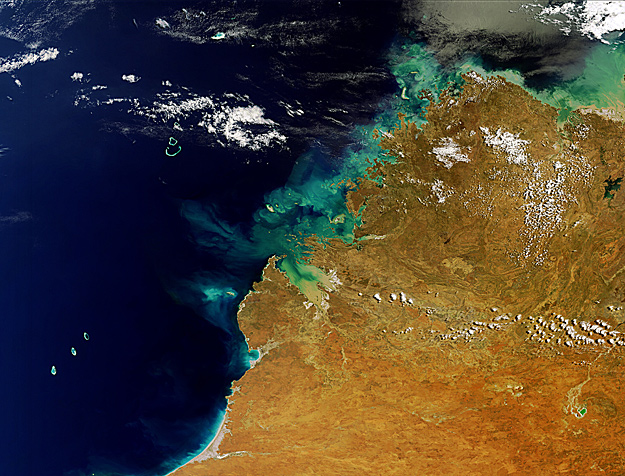 Western Australia's Kimberley region, with a coastline along the Timor Sea, is pictured in this Envisat image.
Off the coast in the lower left we can see a group of three coral reefs, known as the Rowley Shoals. Located on the edge of one of the world's widest continental shelves, each atoll covers an area of 80-90 sq km including lagoons.
Near the centre of the image is King Sound – a large gulf measuring about 120 km long and 50 km wide. A handful of rivers empties into the sound such as the Fitzroy River, one of Australia's largest watercourses. The port town of Derby lies near the mouth of this river.
King Sound has the highest tides in Australia, reaching a maximum range of over 11 m. In the Great Sandy Desert to the south, average rainfall can exceed 300 mm. But the high evaporation rate makes up for the higher than normal desert rainfall.
In the lower-right corner we can see Lake Gregory. This inland drainage lake usually holds fresh water, but can become salty after a number of dry years. It is a major migratory area for shorebirds, and provides a breeding habitat for several species of water birds.
On the upper-right side is Australia's largest artificial lake by volume, Lake Argyle, on the Ord River. The water is used for agriculture, and the lake is recognised as an important wetland area under the Ramsar Convention.
This image was acquired on 28 September 2010 by Envisat's MERIS instrument. Larger image.