House Transportation Committee Hearing on Commercial Space Transportation: Beyond The X Prize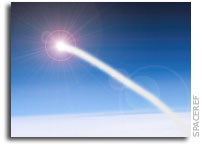 PURPOSE
The purpose of this hearing is to discuss the status and future of the U.S. commercial space transportation industry and the role of the Federal Aviation Administration (FAA) in providing safety oversight of the industry.
BACKGROUND
Space transportation is the movement of, or means of moving objects, such as satellites, to, from, in, or through space. Such objects and the launch vehicles that move them traverse through the navigable airspace to reach "space." Commercial space transportation is carried out by launch vehicles owned and operated by private entities. There are two types of launch vehicles: expendable launch vehicles, which are used only once, and reusable launch vehicles, which could be used multiple times. Currently, commercial launches utilize expendable launch vehicles, but there are ongoing efforts to develop reusable launch vehicles for commercial purposes.
Prior to the early 1980s, there was no commercial space transportation industry. Instead, the United States launched commercial satellites on vehicles owned by the government. However, several events during the 1980s prompted the development of this industry, including the creation of a European commercial launch services organization, and the ban of commercial payloads (i.e. satellites) from flying aboard the Space Shuttle after the Challenger disaster.
By the year 2002, U.S. commercial space transportation and the services and industries it enables accounted for more than $95 billion in economic activity in addition to providing many benefits to public consumers (i.e. DirecTV and satellite radio).
ROLE OF THE FEDERAL AVIATION ADMINISTRATION
In 1984, Congress passed the Commercial Space Launch Act (the 1984 Act). The 1984 Act sought to encourage the development of the emerging commercial space launch industry and to facilitate compliance with Federal requirements. The Act created a licensing mechanism to enable quick and efficient compliance with existing Federal regulations.
Additionally, licensing oversight was consolidated into the newly established Office of Commercial Space Transportation (OCST) in the Department of Transportation (DOT). In 1995, the Office of the Associate Administrator for Commercial Space Transportation (AST) was transferred to the FAA. It is the only office within the FAA authorized to oversee and regulate the commercial space launch industry.
AST is responsible for regulating launches conducted by private companies in the United States. AST's mission is to make sure commercial launch activities do not harm public interests, including safety of the public and property as well as U.S. national security and foreign policy interests. AST's mandate is also to encourage, facilitate, and promote U.S. commercial space transportation and the United States space transportation infrastructure.
AST issues launch licenses for commercial launches of orbital rockets and suborbital rockets. The first U.S. licensed launch was a suborbital launch of a Starfire vehicle on March 29, 1989. Since then, AST (including its predecessor, OCST) has licensed 168 launches; only two manned experimental launches. To date, commercial space launches have not resulted in fatalities or serious injuries to the uninvolved public (no accidents). However, of the 168 licensed launches there were 17 failures (i.e. did not complete the mission). This equates to a launch failure rate of approximately 10%.
AST also licenses the operations of non-federal launch sites, or "spaceports." Since 1996, AST has issued site operator licenses to four such spaceports: California Spaceport at Vandenberg Air Force Base; Spaceport Florida at Cape Canaveral Air Force Station; the Virginia Space Flight Center at Wallops Island; and Kodiak Launch Complex on Kodiak Island, Alaska.
Commercial Space Launch Amendments Act of 2004
In December 2004, Congress passed the Commercial Space Launch Amendments Act of 2004 (P.L. 108-492). This Act makes a number of changes to the Commercial Space Launch Act of 1984; among other things it:
Amends Federal law concerning commercial space transportation to make such law applicable to space flight crews and space flight participants (i.e. passengers).
Instructs the Secretary to ensure that only one license or permit is required from the Department of Transportation to conduct activities involving crew or space flight participants.
Prohibits the Secretary from granting waivers that would permit launches without a license or permit if humans will be aboard.
Allows the holder of a license or a permit to launch and reenter crews and space flight participants, but only as specified.
Authorizes the Secretary to issue regulations requiring space flight participants to undergo physical examination prior to launch or reentry.
Authorizes the Secretary to issue safety regulations governing launch vehicle design or operation.
Provides for the issuance of experimental permits (including permits for reusable suborbital rockets) allowing for an unlimited number of launches.
Permits suspension of licenses under which a previous launch or reentry resulted in serious or fatal injuries.
Requires crew and space flight participants to execute reciprocal waivers of claims with licensees and permitees and the Federal government.
Makes liability indemnification program requirements inapplicable to space flight participants.
Under the Commercial Space Launch Amendments Act, the FAA is authorized to regulate the industry over the next eight years primarily to protect the uninvolved public and the public interest. In 2013, the agency can start regulating space vehicles to ensure crew and passenger safety only if the operation of those vehicles result in death, serious injury or a dangerous close call. The Commercial Space Launch Amendments Act passed in the House under suspension of the rules on November 20, 2004 (269 – 120).
DEVELOPMENT OF THE COMMERCIAL SPACE TRANSPORTATION INDUSTRY
Until October 2004, all commercial space launch vehicles were unmanned expendable vehicles. However, similar to the barn-storming activities in early commercial aviation, supporters of the commercial space transportation industry have created competitions to encourage further developments, particularly in the area of manned commercial space flights.
Commercial Space Transportation Prizes
The first major Commercial Space Transportation Prize encouraging the development of a manned commercial space launch vehicle was the Ansari X Prize. Ansari X Prize was modeled after the $25,000 Orteig Prize won by Charles Lindbergh in 1927 for his historic flight from New York to Paris. The X Prize was a competition between 27 teams across seven countries. The goal was to design, build and develop a craft capable of launching three people 62.5 miles (100 kilometers) into space, returning them safely, and then repeating the feat with the same vehicle within two weeks. The first team to make such a flight would win a $10 million purse.
Scaled Composite's SpaceShipOne became the first privately manned spacecraft to exceed an altitude of 328,000 feet twice within the span of a 14-day period. In October 2004, SpaceShipOne climbed to an altitude of 377,591 feet (71 1/2 miles) to win the $10 million Ansari X Prize.
Starting in the summer of 2006, New Mexico will host the X Prize Cup, an annual rocket festival conceived as a follow-up to the Ansari X Prize. The X Prize Cup will be a two-week long event that allows for privately-financed, passenger-carrying space vehicles to compete for prizes.
Just hours after the X Prize was won, a new prize was announced by Las Vegas hotel mogul Robert Bigelow tentatively entitled the American Space Prize. It will be worth at least $50 million, of which Mr. Bigelow has promised to put up at least half. To win this prize, a team will need to design, build and develop a spaceship that can take people into orbit.
Space Tourism and Space Transportation Carriers
Commercial space tourism is the next step on the road to regularly-scheduled, manned commercial space flights. Space tourism will initially be available to a limited number of wealthy adventurers. Later, commercial space transportation could include point-to-point commercial space flight services, rapid global transportation, commercial spaceports, and space hotels.
Entrepreneurs are looking at commercial space transportation as a new business opportunity. In fact, big plans were underway even before the X Prize was awarded to the winning team. For instance, shortly after the X Prize was won, Richard Branson, chairman of Virgin Atlantic Airways announced that he would invest $25 million in a new space venture to be called Virgin Galactic. The project will license five slightly larger models of Scaled Composite's SpaceShipOne technology for commercial suborbital flights starting at about $200,000 per seat. Mr. Branson expects Virgin Galactic could fly 3,000 people within five years. Another company, Space Adventures, is developing a passenger suborbital space program, with licensed passenger flights to launch in the 2006-2007 timeframe. As of October 9, 2004, Space Adventures, a space-travel agency, had booked more than 100 reservations for suborbital flight at $100,000 a seat on unspecified carriers.
Suborbital space tourism could generate $700 million a year in revenues by the year 2021, according to a market study by Futron Corporation. Futron's Space Tourism Market Study concluded that:
The overall space tourism market is very promising, and could generate revenues in excess of $1 billion per year by 2021;
Suborbital space tourism will generate the largest demand, with the potential for 15,000 passengers and $700 million in revenues per year by 2021;
Orbital space tourism, while growing more slowly than its suborbital counterpart, will still have up to 60 passengers and $300 million in revenues per year by 2021;
Commercial Spaceports
The infrastructure requirements of the emerging commercial space transportation industry are also under development. Commercial spaceports have been licensed or are under development at locations throughout the United States. Licensed spaceports currently support unmanned launches and testing operations for manned flights. Plans are in the works to support space tourism with resorts and training facilities located on or near spaceports. To date, the FAA has licensed four commercial launch facilities, California Spaceport at Vandenberg Air Force Base; Spaceport Florida at Cape Canaveral Air Force Station; the Virginia Space Flight Center at Wallops Island; and Kodiak Launch Complex on Kodiak Island, Alaska. Other states have considered developing commercial spaceports, including Idaho, Louisiana, Mississippi, Montana, Nevada, North Carolina, and Utah. Additionally, there are numerous other spaceports in development both in the United States and internationally, including:
New Mexico. The New Mexico Office for Space Commercialization (NMOSC) was established in 1994 to promote, coordinate, develop and manage New Mexico's regional spaceport program. Selection of a spaceport in New Mexico has centered on Upham, an undeveloped location in Southern New Mexico. New Mexico will be home of the X Prize Cup. British-based Starchaser Industries already has opened an office in New Mexico and plans to begin flying suborbital space vehicles there as early as 2006.
Oklahoma. The Oklahoma Space Industry Development Authority plans to complete its federal spaceport application by summer 2005. Oklahoma serves as the home base for two X Prize contenders, Rocketplane Ltd. and TGV Rockets. Rocketplane is taking reservations for suborbital flights from Oklahoma starting in 2007, through Incredible Adventures. The list price is $99,500.
Texas. Texas law allows the formation of Spaceport Development Corporations (SDCs), which are autonomous agencies that possess the authority to levy taxes and exercise eminent domain. At present, there are three communities in Texas that are developing a commercial spaceport: Brazos, Pecos, and Willacy Counties.
Russia. Russia operates the only spaceport that has actually taken paying passengers into orbit — the Baikonur Cosmodrome in Kazakhstan. The Russian-based Suborbital Corp. is developing its own analog to SpaceShipOne, known as Cosmopolis XXI, which could be flying by 2007. Russia's Star City space port is located at a Russian air force base.
Australia. Australia already has an agreement to launch Russian spacecraft from its Woomera Range, and Virginia-based Space Adventures — the company that helped send millionaires Dennis Tito and Mark Shuttleworth into space on Russian rocket ships — says it may select an Australia site for a suborbital spaceport.
RELATED ISSUES
There are a number of other issues facing an emerging commercial space transportation industry, including:
Safety oversight;
International competition: Europe, China, Russia, Ukraine, India, and Japan offer commercial launch services in competition with U.S. companies;
Environmental impact analysis and mitigation if appropriate;
Labor laws;
Security of launch facilities; and
The current and future impact of commercial space flights and commercial spaceports on air traffic control and the safe and efficient use of the navigable airspace.
WITNESSES
PANEL I
The Honorable Sherwood Boehlert [Statement]

Chairman, Committee on Science

U.S. House of Representatives

PANEL II
The Honorable Marion C. Blakey [Statement]

Administrator

Federal Aviation Administration
PANEL III
Mr. John Douglass [Statement]

President and CEO

Aerospace Industries Association
Mr. Michael Kelly [Statement]

Chairman

Reusable Launch Vehicle Working Group, COMSTAC
Mr. Lou Gomez [Statement]

Program Manager

Southwest Regional Spaceport, New Mexico
Mr. Will Whitehorn [Statement]

President

Virgin Galactic