Gaseous Hydrogen Leak Postpones Space Shuttle Endeavour Launch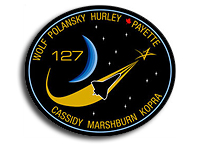 A gaseous hydrogen leak on a vent line for space shuttle Endeavour is postponing this morning's launch. The official scrub time was 12:26 a.m. EDT. Launch teams began draining Endeavour's external fuel tank of its liquid hydrogen and liquid oxygen at 12:06 a.m.
Fueling was halted after the leak was detected near the Ground Umbilical Carrier Plate, or GUCP, which attached to the external tank at its intertank area. The line leads from the GUCP back to the launch pad and to the "flare stack" where vented gaseous hydrogen is burned off.
The leak is similar to what happened during the first launch attempt of space shuttle Discovery's STS-119 mission in March.
After the leak is assessed, shuttle managers plan to meet Saturday morning to discuss what steps to take next, including targeting a new launch date for Endeavour's STS-127 mission to the International Space Station.