Flight 134 Mission Success! – Ariane 4 Mission Log: Mission Briefing for Flight 134

Arianespace maintained its fast-paced mission schedule with this morning's successful launch of Flight 134, which orbited the first satellite for the new Europe*Star telecommunications operator.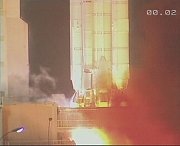 The 100th Ariane 4 launch lights the night at Kourou, French Guiana as Flight 134 prepares to lift off from ELA-2.

The launch occurred right on time at 2:59 a.m. in Kourou. Its Ariane 44LP version of the workhorse Ariane 4 family lifted off under the power of its four first stage engines, augmented by the thrust of two large liquid strap-on boosters and two solid strap-ons.

The Europe*Star spacecraft separated from its launcher 20 minutes later.

The Ariane 44LP launcher clears the umbilical mast on its way to a successful mission. The service gantry is visible at left in its parked position.

Flight 134 has been delayed one day by upper level winds that exceeded the range safety limits at Kourou. The mission team put the launcher and satellite into a safe mode, allowing the final countdown to begin for the liftoff 24 hours later.

Today's mission marked a milestone in the Ariane program ñ the 100th launch of an Ariane 4. The flight also was the 25th using an Ariane 44LP configuration.

Arianespace Chief Operating Officer Jacques Rossignol expressed satisfaction to have launched the initial Europe*Star satellite, and noted that the maiden flight of Ariane 4 in June of 1988 also carried the first payload for a new company ñ the PAS 1 satellite for PanAmSat.

In his post-launch remarks, Rossignol wished the same success to Europe*Star as experienced by PanAmSat – which, since the milestone Ariane 4 mission in 1988, has become a major player in the telecommunications market as well as a regular customer for Arianespace launches.

PanAmSat is the customer for Arianespace's next launch, Flight 135, which will carry the PAS 1R satellite. Scheduled for November 14, the upcoming mission will use an Ariane 5, which also is to carry three auxiliary satellites: Amsat P3D, STRV 1C and STRV 1D.