Expedition Six Loads Progress 9 with Trash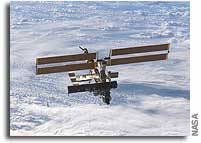 As the International Space Station sailed above Earth on Tuesday, the Expedition Six crew began loading the Progress 9 cargo ship with trash. The cargo ship is currently attached to the aft end of the International Space Station's Zvezda Service Module and will be commanded to undock Saturday about 9:58 a.m. CST (1558 GMT). Its departure will make room for the arrival of Progress 10, which will be filled with supplies and equipment. Progress 10 is scheduled to launch from Baikonur Cosmodrome, Kazakhstan, at 6:59 a.m. CST (1259 GMT) Sunday and arrive at the station Feb. 4.
In other activities, NASA ISS Science Officer Don Pettit set up and activated the Earth Knowledge Acquired by Middle-School Students, or EarthKAM, system. EarthKAM allows students to conduct Earth observations by controlling a special digital camera mounted in the window of the ISS U.S. Destiny Laboratory. The crewmembers also performed a fit check of the seats in the Soyuz capsule.