Expedition 8 Removes Unneeded Equipment, Prepares for Experiment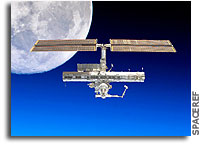 On the second to last day of 2003, Expedition 8 Flight Engineer Alexander Kaleri continued efforts to remove unneeded instruments from the motion control system in the Zarya Control Module. The equipment has not been needed since the arrival of the Zvezda Service Module in 2000. Its removal provides extra stowage space in Zarya.
Commander Michael Foale prepared samples for the upcoming tests for the In-Space Soldering Investigation. The experiment is designed to provide information useful to future Station assembly and maintenance work, as well as fundamental scientific information about the role surface tension plays in soldering on Earth.
Foale and Kaleri also performed their daily exercise routine and monitored ISS systems.