Expedition 8 Prepares to Hand Over Space Station, Return Home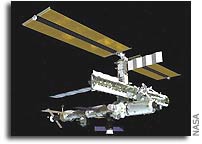 Aboard the International Space Station, the Expedition 8 and 9 crews continued joint operations and handover activities Tuesday.
Expedition 9 Commander Gennady Padalka and NASA ISS Science Officer Mike Fincke will formally take command of the Station at 12 p.m. CDT (1700 GMT) Thursday when the hatches are closed to the ISS Soyuz 7 spacecraft that will return the Expedition 8 crew and European Space Agency (ESA) Astronaut André Kuipers to Earth. Kuipers arrived at the Station with Expedition 9 and is flying under a commercial agreement between ESA and the Federal Space Agency of Russia.
Expedition 8 Commander Michael Foale and Flight Engineer Alexander Kaleri and Kuipers prepared Tuesday for their return to Earth with training in the Soyuz. The spacecraft is slated to undock from the ISS at 3:52 p.m. CDT (2052 GMT) Thursday and land in Kazakhstan at 7:12 p.m. CDT Thursday (0012 GMT Friday).
In other activities, Kuipers continued to conduct science experiments for ESA.