Expedition 25 Crew Prepares for Departure and Return to Earth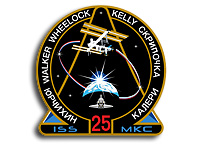 Expedition 25 Commander Doug Wheelock ceremonially handed over command of the International Space Station to Flight Engineer and Expedition 26 Commander Scott Kelly Wednesday.
Wheelock and Flight Engineers Shannon Walker and Fyodor Yurchikhin are scheduled to land in Kazakhstan Thursday at 11:46 p.m. EST (Friday 10:46 a.m. Kazakhstan time). When they undock in the Soyuz TMA-19 spacecraft at 8:23 p.m. Thursday Expedition 26 will officially begin. Remaining onboard the station will be Kelly and Flight Engineers Alexander Kaleri and Oleg Skripochka.
Yurchikhin spent time packing the Soyuz spacecraft for the trio's departure.
Skripochka and Kaleri worked with the Russian SONOCARD experiment. SONOCARD collects physiological data during sleep to study the feasibility of obtaining real-time health data that could serve as a basis for evaluating and predicting the human body's ability to adapt during long-duration spaceflight.
Walker collected samples for the Japanese experiment Mycological Evaluation of Crew Exposure to ISS Ambient Air, or MYCO. The experiment determines which fungi act as allergens aboard the station by evaluating the risk of microorganisms via inhalation and adhesion to the skin of crew members.
Walker also aided Kelly as he collected blood samples for use in the station's Human Research Facilities, or HRFs, and stored them in the Minus Eighty-Degree Laboratory Freezer for ISS. The HRFs provide on-orbit laboratories that enable scientists conducting human life science research to evaluate the physiological, behavioral and chemical changes induced by spaceflight.
Wheelock participated in the Integrated Immune experiment, which assesses the clinical risks resulting from the adverse effects of spaceflight on the human immune system. These assessments are used to develop a flight-compatible immune monitoring strategy.