Expedition 13 Crew Lifts Off from Baikonur Cosmodrome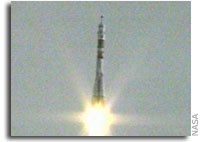 Expedition 13 Commander Pavel Vinogradov and Flight Engineer Jeff Williams began their mission Wednesday at 9:30 p.m. EST. They launched aboard a Soyuz rocket from the Baikonur Cosmodrome in Kazakhstan. Joining them for several days before returning home with Expedition 12 is Brazil's first astronaut Marcos Pontes.
Expedition 12 Commander Bill McArthur and Flight Engineer Valery Tokarev have readied the station for the March 31 arrival of Expedition 13. McArthur, Tokarev and Pontes will undock from the station and land in Kazakhstan April 8.