Expedition 10 Relocates Soyuz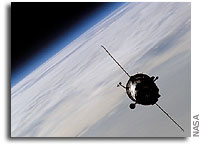 The Expedition 10 crewmembers successfully relocated a Soyuz spacecraft at the International Space Station this morning, setting the stage for their upcoming spacewalks.
Commander Leroy Chiao and Flight Engineer Salizhan Sharipov left the Station unoccupied as they flew aboard the Soyuz. Sharipov, who served as the Soyuz commander, sent commands to undock the Russian spacecraft from the Station's Pirs Docking Compartment at 3:29 a.m. CST (0929 GMT). He redocked the Soyuz to the Earthward-facing port on the Zarya Control Module at 3:53 a.m. CST (0953 GMT).
Chiao and Sharipov re-entered the Space Station after the completion of a series of leak checks and began efforts to return ISS systems to normal operations. Station systems were set for autonomous operations while the duo was in the Soyuz.
The relocation of the Soyuz allows Chiao and Sharipov to use Pirs as the airlock for their two spacewalks. They will install science experiments and hardware on the outside of the ISS. The will also prepare the Space Station for the arrival of the Automated Transfer Vehicle.