Dear Colleague Letter: Cosponsor the Bipartisan Apollo 1 Memorial Act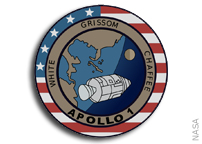 COSPONSOR THE BIPARTISAN APOLLO 1 MEMORIAL ACT
From: The Committee on Science, Space, and Technology – Minority Staff
Sent By: [email protected]
Bill: H.R. 6147
Date: 11/30/2016
Dear Colleague,
On January 27, 1967, Astronauts Command Pilot Virgil I. "Gus" Grissom, Senior Pilot Edward H. White II, and Pilot Roger B. Chaffee were killed in an electrical fire that broke out inside their Apollo I Command Module on Launch Pad 34 at the Kennedy Space Center in Cape Canaveral, Florida. Although all three astronauts were posthumously awarded the Congressional Space Medal of Honor, it is surprising that we do not have a memorial at Arlington Cemetery to honor the lives of the crew of Apollo 1 as was done for the Space Shuttle Challenger and Columbia crews.
H.R. 6147 , The Apollo I Memorial Act, would redress that unfortunate omission. As Arlington National Cemetery is where we recognize heroes who have passed in the service of the Nation, it is fitting on the eve of the 50th anniversary of the Apollo I accident that we acknowledge these astronauts by building a memorial in their honor.
This bill would direct the Secretary of the Army, in consultation with the Administrator of the National Aeronautics and Space Administration (NASA), to construct at an appropriate place in Arlington National Cemetery, a memorial marker honoring these American heroes.
We hope that you will join us in cosponsoring H.R. 6147, The Apollo I Memorial Act. Please contact John Piazza on the Committee on Science, Space, and Technology Minority Staff (x5-6375) to have your name added as a cosponsor.
Sincerely,
EDDIE BERNICE JOHNSON
Ranking Member
Committee on Science, Space, and Technology
JEFF MILLER
Chair
Veterans' Affairs