Congress Passes Short Term Funding Bill; NASA's Near-Earth Objects Program Faulted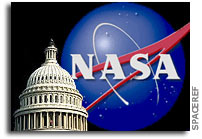 Short Term Funding:
By large margins the House and Senate passed legislation providing ten weeks of funding at current levels after the start of FY 2015 on October 1. During this time agency officials are unlikely to approve new starts. Senior appropriators want to use an omnibus bill to provide funding through the remainder of the new fiscal year. This bill will be considered after Members return from the November elections. Passage of this legislation is good news for federal science agencies and the researchers they support; last year the federal government was closed for 16 days when Congress and the Administration could not agree on the provisions of a stop-gap funding bill.
NASA's Near-Earth Objects Program Criticized:
NASA concurs with recommendations to improve its program to identify near-Earth objects (NEO) and to mitigate the hazards these objects pose to Earth. These recommendations were contained in a 44-page report released on September 15 by NASA's Office of Inspector General entitled "NASA's Efforts to Identify Near-Earth Objects and Mitigate Hazards."
Concern about the hazards of NEOs predate the 2013 Chelyabinsk Meteor that exploded 14.5 miles over Russia with a force equivalent to thirty nuclear weapons. In 1992 NASA initiated research on this problem. Two years later the House Science Committee asked NASA to identify comets and asteroids more than a kilometer in diameter that cross Earth's orbit. This effort was to be completed in ten years. In 1998 NASA established a NEO Program Office within its Science Mission Directorate's Planetary Science Division. The budget for this program has seen significant growth: it was $4 million in FY 2009 and is now $40 million. To date, this effort has cost approximately $100 million. The program has a single employee – the Program Director (with no dedicated oversight staff) – at NASA's Washington headquarters. Other components are in California and Massachusetts.
The eleven month audit concluded:
"NASA has organized its NEO Program under a single Program Executive who manages a loosely structured conglomerate of research activities that are not well integrated and lack overarching Program oversight, objectives, and established milestones to track progress. In addition, NASA is undertaking NEO-related activities not managed by the Program and not sufficiently integrated into ongoing Program activities. Furthermore, NASA lacks formal agreements or procedures for NEO-related activities it conducts with other Federal agencies and foreign governments and has not taken advantage of possible partnership opportunities. Consequently, managers could not identify the level of resources required to adequately support the Program or explain how activities to which the NEO Program is contributing further Program goals. Even though the Program has discovered, categorized, and plotted the orbits of more than 11,000 NEOs since 1998, NASA will fall short of meeting the 2005 Authorization Act goal of finding 90 percent of NEOs larger than 140 meters in diameter by 2020. We believe the Program would be more efficient, effective, and transparent were it organized and managed in accordance with standard NASA research program requirements."
The report's finding that NASA would be unable to meet the 90 percent goal is not new; a National Research Council committee arrived at this conclusion in 2010.
The main body of the Inspector General's report is twenty pages long. It concludes with five recommendations to the Associate Administrator for the Science Mission Directorate. A copy of the September 11 letter responding to these management recommendations from Associate Director John Grunsfeld (pages 29-31) outlines corrective actions NASA will take by March and September 2015 in response to these recommendations.
The Inspector General sent the report to House and Senate appropriators and four authorizing committees, one of which was the House Committee on Science, Space, and Technology. The House Science Committee held hearings on this topic in March and April 2013, receiving testimony from six witnesses. At the first hearing Committee Chairman Lamar Smith (R-TX) described the magnitude of this problem and commented "Some space challenges require innovation, commitment and diligence. This is one of them."