Call for Media: Inauguration of ESA's Space Weather Coordination Centre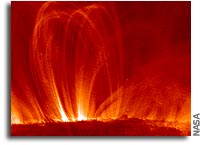 Media representatives are invited to the inauguration of ESA's Space Weather Coordination Centre, the first such centre to be opened under the Agency's Space Situational Awareness programme.
The new Space Weather Coordination Centre will serve as the central access point to a portfolio of European space weather expertise. Located at the 'Space Pole' in Brussels, the Space Weather Coordination Centre (SSCC) includes the first European space weather helpdesk and, through this, rapid access to expert support on solar weather, ionospheric weather, the geomagnetic environment and the orbital radiation environment. This is made possible by networking and building on key European assets and expertise.
The SSCC is a dedicated control room where operators monitor the Sun, the space environment and the Earth environment for early detection of possible effects of space weather phenomena on economically vital infrastructures and activities, including gas/oil drilling, electric power distribution and navigation. This will reduce costs and improve reliability and information for citizens.
The media briefing is being organised by the European Space Agency in cooperation with the Solar-Terrestrial Centre of Excellence and will be held at Space Pole, Meridian Room, Ringlaan/Av. Circulaire 3, 1180 Brussels, on 3 April 2013, 10:30-13:00 CET.
Doors open at 09:45 CET.
More information