Asteroid Mission, New Rocket System Major Topics of House Hearing on NASA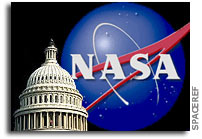 The House Science, Space, and Technology Committee will write a reauthorization bill for NASA in coming months. A hearing last month before the committee provides insight into some of the major concerns of its members.
While questions were raised about various aspects of the agency's FY 2014 request, committee members appear to be relatively comfortable with the approach that NASA is taking. As is always the case, there was concern that NASA is being asked to do too much with a constrained budget.
NASA Administrator Charles Bolden sought to quiet these concerns by telling the committee that if the FY 2014 request is approved the agency will be able to carry out its programs on time and within budget. The request assumes that Congress and the Administration will reach an agreement to eliminate future budget sequestrations. Bolden was blunt when asked about the impact of a full ten-year sequestration. "All bets are off," he said, explaining that the testing schedule for the commercial crew program would be delayed, and "the asteroid mission will probably go away."
The Administration's proposal to capture an asteroid and place it in lunar orbit for study by astronauts was the subject of many questions. Committee members questioned Bolden about its relevance to a future human mission to Mars. Bolden explained research conducted as part of the proposed project would permit the characterization of an asteroid and demonstration of technologies that could alter an asteroid's path.
Bolden described the mission as an intermediate destination for a human mission to Mars using technologies now under development such as solar electric propulsion. Countering what he said was a faulty assumption about the mission's origin, Bolden declared "This is not an overnight thing. We did not just think this up. . . NASA has been working on this for decades." Bolden told the committee that NASA would "never, ever" have enough money to send humans to land on an asteroid.
When asked to compare a return mission to the Moon and the proposed asteroid mission, Bolden replied that NASA wants to push the development of new technologies for travel into deep space. The agency knows how to get to the Moon he said, having done so six times. To return to the Moon only requires money, while capturing an asteroid and placing it in lunar orbit requires new technologies. The $8 to $10 billion cost for a lunar mission cannot be accommodated within the agency's five year projected budget, he said. NASA will issue a projected budget for the asteroid mission later this year.
There were questions about whether the new rocket, the Space Launch System, is on schedule for a 2017 launch. Bolden replied that the project is on schedule barring an accident, the timely delivery of the Orion space vehicle and a continued flow of sufficient funding. Later this summer NASA will make a go/no-go decision on whether to continue the development of the rocket.
There was also discussion about the Obama Administration's proposed consolidation of federal STEM education programs. Bolden explained that "I got blank stares" when he asked program administrators about the impacts of NASA's education programs that involve a million students annually. Bolden shares President Obama's view that metrics are needed to determine the effectiveness of these programs, and said it is appropriate to try a new approach.
There was little discussion about space science. Committee Chairman Lamar Smith (R-TX) asked Bolden if the James Webb Space Telescope is still on its launch schedule, citing a Government Accountability Office April 2013 overview report that two instruments have been delayed by 11 months and other technical problems. Bolden replied "that is in direct contrast" to what he has been told in weekly status reports.
In Smith's opening remarks, he asked how the $1.8 billion request for NASA's Earth Science programs would affect "other NASA priorities, especially planetary exploration." Space Subcommittee Chairman Steven Palazzo's opening remarks (R-MS) expressed concern about the budgetary impact of the proposed transfer of programs from other agencies to NASA, mentioning climate sensors for upcoming missions, Landsat follow-on activities, and the development of infrastructure for Radioisotope Power Systems. Subcommittee Ranking Member Donna Edwards (D-MD) expressed similar concerns in her opening remarks.
Richard M. Jones
Government Relations Division
American Institute of Physics
rjones@aip.org
301-209-3095