Ask your Member of Congress to "represent" your support for commercial space TODAY!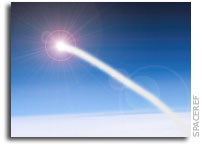 Dear Commercial Space Advocate,
The U.S. House of Representatives' Appropriations Subcommittee on Commerce, Justice, Science, and Related Agencies has asked your Member of Congress for their input about what programs in NASA (and other agencies) should receive increased or decreased funding in FY2012. This gives you an opportunity to have your Representative support vital NASA initiatives like Commercial Crew and Space Technology.
What you should do – ASAP, but definitely before noon on Friday, May 20th – is call your Member of Congress' office in Washington, D.C., ask to speak to the staff person who handles "NASA appropriations" and ask that staffer to take two actions:
A. Submit a request to the House Appropriations website recommending that the Committee fully fund NASA's Commercial Crew program in FY2012 at the President's requested level of $850 million.
B. Submit a request to the same website recommending that the Committee fully fund NASA's Space Technology (including Exploration Technology) program in FY2012 at the requested level of $1.024 billion.
Here are the detailed steps for how you can ask your Member of Congress to take action:
1. If you don't know who your Congressman is, go to http://www.house.gov/htbin/findrep?ZIP= and enter your zip code, and it will tell you who your Representative is (and remember it for next time)
2. Call your Congressman's office in D.C., either using the direct number (from their website or a directory you have access to) or the House Switchboard (202)225-3121. Don't bother to send an e-mail or fax; that won't work this time.
3. Ask to speak to the legislative staff member who handles "appropriations for NASA". Don't just talk to whomever answers the phone. Politely ask to speak to the right staffer, because you need to tell them HOW to do what you want done.
4. If they tell you "Sally handles appropriations and Joe handles NASA", you want to talk to Sally, because this is an appropriations issue. (Of course, if Sally isn't available, go ahead and try talking to Joe!)
5. When you've got the right person on the phone, tell them that you support full funding of NASA's Commercial Crew and Space Technology programs at the level requested in the President's budget ($850 million and $1.024 billion respectively).
6. Ask them to submit, on your congressperson's behalf, full funding requests for these two programs via the House Appropriations Committee's website (before the 6pm deadline on Friday, May 20th).
7. To make their job easier, tell the staffer they may contact Congressman Dana Rohrabacher's or Zoe Lofgren's office for a copy of the specific language to use for these two funding requests. Congressmen Rohrabacher and Lofgren are two of our biggest supporters of commercial crew and space technology, and are currently putting together a Congressional letter endorsing these programs. The people to contact are Tony DeTora in Congressman Rohrabacher's office at x5-2415 and Eleen Trang in Congresswoman Lofgren's office at x5-3072.
8. Politely ask the staffer to follow-up with you. Most likely the staffer will have to check with their boss before making these funding requests anyways. So tell them that you want to publicize their boss' support for commercial space, and ask them to call you or send you an e-mail after they fill out the request forms, or tell you that they can't (and hopefully why). If you haven't heard from them by Friday at noon, call the office back and ask what the status of your request is.
9. Let everybody know that you just took action for commercial space. Email the Foundation at Aaron.Oesterle@spacefrontier.org, and let us know what you found out. Cross post or tweet this alert with a link to where you read it and tell your followers "I stood up for commercial space, and you can too!"
ADDITIONAL INFORMATION:
If you need arguments as to why Commercial Crew and Space Technology deserve full funding, here are the draft descriptions from the appropriations request language:
NASA Commercial Crew Program – When the Space Shuttle retires this summer, America will be wholly dependent on Russia to launch our astronauts to the Space Station, sending nearly $400 million overseas each year. Commercial Crew will competitively fund the fastest-possible development of safe and affordable made-in-America vehicles, creating thousands of American jobs and enabling full use of the Space Station. We strongly support full funding of the requested level of $850,000,000 in FY2012.
NASA Space Technology Program (STP) – America must invest in new technology to stay ahead of foreign space powers like Russia and China. NASA's Space Technology Program, which now includes Exploration Technology Development and Demonstration (ETDD), is NASA's primary cutting edge R&D initiative. STP/ETDD funding enables NASA's research centers and America's small businesses and innovators to assure America's leadership in space. We support funding at the requested level of $1,024,200,000.