André Kuipers' diary – Part 4: The last holiday for a while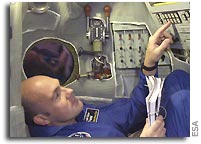 25 december 2003 – 8 januari 2004
I had a wonderful Christmas holiday. I was in the Netherlands on Christmas Day and spent the day at home with my parents, my girlfriend and my younger daughter. Eating, opening presents, that sort of thing. A real family occasion.
On Boxing Day, my girlfriend, my youngest daughter and I went to Kiruna, three hundred miles above the Arctic circle in the north of Sweden. Normally, I love to ski, but this would have been too great a risk so close to my spaceflight. So instead we went for rides on dog sleighs. We each had our own sleigh, drawn by four or five dogs. Straight through the expansive forests – everything covered with a layer of immaculate white snow. We slept in huts, and when we needed water we just hacked a hole in the ice. The river water there is so pure that you can drink it straight from the source.
Sami
At one point, we came across the Sami. This is the official name of the Lapp people. We learnt all about their culture and lifestyle. It is very cold there, about minus thirty degrees, but the sky is crystal clear. You can see stars that you hardly ever see in the Netherlands, and occasionally a satellite passes overhead. We welcomed in the New Year there, with the splendid Northern Lights and champagne that immediately froze in the glass.
Exhibition
Back in the Netherlands, I collected some extra things together for an exhibition at Space Expo in Noordwijk. This is an exhibition about my life and the coming mission.
It is really nice, with all my old school exercise books, essays about space travel and other things from my youth. I had space travel in my blood at a very early age. My glasses are there as well. When I was young, like many children I thought that you could not become an astronaut if you wore glasses. It turned out that this was not true.
Guest of honour
On Monday I attended a New Year reception at the Ministry of Economic Affairs as Minister Brinkhorst's guest of honour. We talked together in his office and afterwards I was interviewed on stage. As far as I am concerned, the officials there deserve a round of applause; they have worked for years to get another Dutchman into space. Finally, their work has paid off…
This was my last holiday for a while. Until the mission in April, I just want to concentrate on training at Star City and the experiments that I am going to perform in space. I do not want any distraction for a while because there is still a lot of work to be done.