André Kuipers' diary – Part 3: Russian culture and Jules Unlimited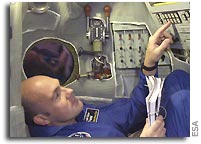 12 – 18 december 2003
This weekend, I went on trip in the woods with my fellow crewmembers. I have already been out in the Netherlands with my Russian commander, Valeri Tokarev, and with Bill McArthur while training at Houston in America. This time it was great to learn a bit more about the Russian traditions. On Friday it was fatty meat, nature and vodka, on Saturday, museums and luxurious food – a day of culture.
Rostov
We went to Rostov and Jaroslav. Rostov is where Valeri Tokarev grew up. Now, because of he is a cosmonaut, he is a hero here. Photos of him hang in hotels and restaurants, and everyone knows his name. The same applies to the first woman cosmonaut, Valentina Tereshkova. She also came from Rostov.
We called in on Valeri's mother for tea. After that, we visited the mayor and spoke to the local media. Above all, the journalists wanted to hear personal details. They asked about my daughters, my girlfriend and the kind of work I do.
Winter clothing
I had to wrap up warm because it is starting to get pretty cold in Russia. Fortunately, I was able to borrow Joeri Karkapolow's military winter clothing. He used to be the chief of the training division in Star City. Now he works for ESA in Russia.
On Monday and Tuesday morning I had medical examinations for the umpteenth time. On Monday I had to give blood and urine samples and on Tuesday I had to see all kinds of specialists, such as the internist and the optician. I do not have to lead a healthier lifestyle now that the mission approaches, but I do have to avoid risks. Unfortunately, this includes skiing. Of course, you are not allowed to do anything really dangerous before your flight. The test results were OK.