André Kuipers' diary – Part 2: Medical examination – six crowns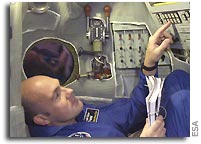 5 – 11 december 2003
I have spent a lot of time in the Netherlands over the past few weeks. I celebrated the Saint Nicholas festival with my parents and my daughters, and did a lot together with my girlfriend. At home, I had to rummage among the old things in the attic for the ESA and Space Expo.
There is going to be an exhibition about the mission and, of course, this has to include some personal items. I found some really wonderful things. Such as the science fiction magazines about Perry Rhodan. It was by reading his adventures that I really became interested in space travel. I also found some exercise books from my primary school days, with essays in which I wrote about two schoolboys who travel into space in a Gemini capsule. The space bug bit me at a very early age…
In Soesterberg, I tested a vest from TNO (the Dutch applied science research centre). This vest contains a number of vibrating elements similar to the ones in mobile telephones. In space, these tell you what is left, right, up and down, so that you can get a better idea of your orientation. TNO wants to know whether the vibrating vest makes life easier in space and whether it could help to counter space sickness.
I only wear the vest for the experiment. Otherwise, I will just wear comfortable clothing in the Space Station, such as overalls or shorts and a polo shirt. This week, my fellow crew-members and I were allowed to select the clothes that we want to take with us on the mission, even the colours, so that you can match your shirts and shorts with your socks.
The international medical examination for my flight also took place this week. A couple of strict Russian doctors pointed out six of my molars that might crack in space. You cannot work well in space if you have toothache, so they felt that I ought to have six crowns fitted. If I had not been an astronaut, this would not have been necessary, but of course they are not taking any risks during a space mission.
A German airforce dentist in Cologne was able to fit me into his schedule. So in the morning, after the tests with the vest in Soesterberg, I travelled to Cologne for a four-hour session in the dentist's chair. When everything was in order, I travelled back via Brussels to the training centre near Moscow. All in all, a busy day.
Next week I will be back in Star City. We have started training for the linkup, and next week we will cover all the procedures for the launch and the first hours following the launch. I am certainly happy to get back in to training again. You find that you get rusty when you have been out of it for a while. My Russian, especially, could benefit from a few extra lessons.