André Kuipers' diary – Part 11: Farewell to the Netherlands. The G-force game.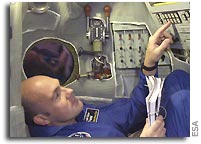 19 – 25 February
After training in Houston, I spent a last, brief weekend in
the Netherlands. On Sunday evening, I paid a flying visit to my parents.
People sometimes ask me whether I feel the mission drawing closer, and I
tell them that I am too busy to think about that. On Sunday, however, it was
different.
I suddenly realised that this was the last time that I would see my parents
before the launch. It is also a very special time for them, of course. They
are seeing the realisation of a dream that I have pursued for 33 years with
their support. It is almost as if I were competing for a gold medal at the
Olympics.
On Monday morning, at Schiphol, I was able to get down to work again for the
mission. Two scientists from the University of Groningen were there to take
samples of the bacteria on my body. These were needed for one of the
experiments on board the Space Station concerning the behaviour of bacteria
in space. In order to get material for comparison in the study, I have to
take samples on Earth and in space.
Samples
The bacteria from my own body form only a small part of the study. On board
ISS, I will take samples from various places, such as handles, keyboards,
headsets, the corners between panels, the sleeping quarters, the areas
around warm lamps, humid areas and (of course) the toilet. All of these are
places where you would expect to find a lot of bacteria. I will also grow
bacteria cultures in space; a box, which I will take up with me, will
contain prepared slides. The box will remain closed throughout the mission
and after I return, the DNA of the bacteria will be studied in Groningen.
The aim is to see how their characteristics change in conditions of
weightlessness and to observe the extent to which they cling differently to
surfaces when there is no gravity.
I am still in training for the time being, so on Monday I flew back to Star
City. In contrast to Houston, where it is already getting quite warm, Star
City still lies under a blanket of snow. My commander was still in America,
so I had plenty of time for the scientific experiments. Together with people
from ESTEC and a couple of scientists, we ran through some of the procedures
and put the equipment through practical tests to see that everything is
working properly.
Blood pressure
One of the experiments that I practised for this week is all about measuring
blood pressure. There are actually three separate experiments that overlap
each other. At two points during my mission, I will wear blood pressure
monitors on my arm and my fingers for twenty-four hours at a stretch. At
some times during these periods I have to perform stress tests, such as
doing arithmetical calculations; at others, by contrast, I have to relax
completely and do nothing. There were still some hitches, so we are
modifying the procedures here and there. As you can see, training is
enormously important. If something is going to go wrong, it is better to
find out while you are still on the ground than when you are in space!
On Wednesday, I also prepared for the coming training session on winter
survival. Once again, I was given instruction on all the equipment and
techniques, such as using a machete to fell trees and cut branches, using
the emergency radio, building a shelter, making a fire etc.
This week, I also practised the manual re-entry. In extreme emergencies, I
have to be able to guide the Soyuz back to Earth on my own. Normally, the
re-entry is guided by computer, but if you hit the atmosphere more than 30
seconds too early or too late, or if the computer is down, you have to do it
yourself. Then you have to juggle with the capsule's centre of gravity to
get back on course.
The manual re-entry training is done in front of a genuine Soyuz control
panel with visual display screens; eventually, it even takes place in the
big centrifuge that recreates the actual G-forces. The steeper the simulated
re-entry into the atmosphere, the harder I am pressed back into my seat. If
my approach is less steep, the G-force is reduced. It is quite a puzzle to
know how best to fly. Of course, you do not want to be pressed into your
seat too much, but on the other hand you do not want to land where nobody
can find you, hundreds of kilometres from the appointed place.
Computer game
Actually, it's like an enjoyable computer game that you want to play as well
as you can. My best score was a deviation of zero kilometres: "Right on the
spot". My worst attempt took me about twenty-five kilometres away from it.
The computer itself has a margin of error of 19 kilometres, so I am quite
happy with my performance. What's more, if the computer handles the re-entry
we will have to put up with a G-force of 5. If I do it myself, it is usually
about three. I have already asked my instructors to let me to take care of
the job…
I use all my free time to tie up loose ends and, especially, to sort out my
personal kit. Music, the list of email addresses and telephone numbers, my
own notebook with brief notes on the most important things, personal items
that I want to take with me – that kind of thing. There will be no more time
for socialising in the next six weeks. I just do what is expected of me by
tradition. You do have to watch out when you are with the Russians. If you
emptied your glass of vodka with every toast, you would have to be carried
back to your quarters…