AIP FYI: Reaction to Successful Flight of Commercial Cargo Space Craft to Space Station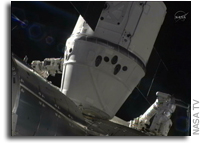 Last Friday's successful docking of the Dragon capsule developed by SpaceX to the international space station was hailed by both the Obama Administration and Members of Congress. Docking occurred 250 miles above Earth, permitting the transfer of 1,014 pounds of cargo to the station. Of note, the capsule will return to Earth tomorrow with 1,367 pounds of scientific experiments, hardware, and other cargo, landing in the ocean several hundred miles west of California. Up until now, only the Russian Soyuz vehicle was able to return to Earth.
The proposal to use private companies to provide transportation of cargo and eventually crew to the space station has been controversial, and follows a decision made by President George W. Bush in 2004 to retire the space shuttle. In April 2010, President Barack Obama spoke of the use of private craft in an address at the Kennedy Space Center:
"And we will extend the life of the International Space Station likely by more than five years, while actually using it for its intended purpose: conducting advanced research that can help improve the daily lives of people here on Earth, as well as testing and improving upon our capabilities in space. This includes technologies like more efficient life support systems that will help reduce the cost of future missions. And in order to reach the space station, we will work with a growing array of private companies competing to make getting to space easier and more affordable."
"Now, I recognize that some have said it is unfeasible or unwise to work with the private sector in this way. I disagree. The truth is, NASA has always relied on private industry to help design and build the vehicles that carry astronauts to space, from the Mercury capsule that carried John Glenn into orbit nearly 50 years ago, to the space shuttle Discovery currently orbiting overhead. By buying the services of space transportation – rather than the vehicles themselves – we can continue to ensure rigorous safety standards are met. But we will also accelerate the pace of innovations as companies – from young startups to established leaders – compete to design and build and launch new means of carrying people and materials out of our atmosphere."
Reaction to the SpaceX mission has been positive. After the May 25 docking, Office of Science and Technology Policy Director John Holdren stated:
"For the first time, a private American company has successfully launched a spacecraft into orbit and berthed it with the International Space Station–an achievement of historic scientific and technological significance and a key milestone in President Obama's vision for America's continued leadership in space.
"That is exactly what the President had in mind when he laid out a fresh course for NASA to explore new scientific frontiers and take Americans even deeper into our solar system while relying on private-sector innovators–working in the competitive free market–to ferry astronauts and cargo to low Earth orbit and the International Space Station. It's essential we maintain such competition and fully support this burgeoning and capable industry to get U.S. astronauts back on American launch vehicles as soon as possible.
"I could not be prouder of our scientists and engineers – both government and private sector employees – who have contributed to this historic mission. A passion for discovery and a sense for adventure have always driven this nation forward, and I join all Americans in watching what future possibilities are enabled by today's great achievement."
NASA Administrator Charles Bolden praised the mission following the docking of the capsule:
"Today marks another critical step in the future of American spaceflight. Now that a U.S. company has proven its ability to resupply the space station, it opens a new frontier for commercial opportunities in space — and new job creation opportunities right here in the U.S. By handing off space station transportation to the private sector, NASA is freed up to carry out the really hard work of sending astronauts farther into the solar system than ever before. The Obama Administration has set us on an ambitious path forward and the NASA and SpaceX teams are proving they are up to the task."
After the May 22 launch, Senator Kay Bailey Hutchison (R-TX) remarked:
"I was pleased to see the successful launch of the Falcon 9 and the Dragon spacecraft this morning. This launch has been a long time coming, and I am happy to see this very challenging mission begin. There are many crucial milestones to be reached and capabilities to be demonstrated during this flight, all of which we hope leads to a demonstrated ability to provide cargo service to the International Space Station. Reliable cargo delivery is critical to fully utilizing this magnificent National Laboratory capability, in which we have invested so much as a nation and as a partnership."
Also commenting on the day of the launch was House Science, Space, and Technology Committee Chairman Ralph Hall (R-TX):
"I would like to congratulate SpaceX on its successful launch. This was a momentous launch, and I am hopeful that the Dragon spacecraft will successfully complete its mission to supply cargo to the International Space Station and safely return to Earth. The unmanned launch, which took place early this morning out of Cape Canaveral, Florida, is the first of its kind. This is a complex mission, and if successful, will be a giant step forward in commercial cargo capability to the International Space Station.
I have long supported the development of commercial cargo spaceflight, and while we still have a long way to go before American astronauts can fly aboard a commercial spacecraft, I hope SpaceX can build upon this success. I will continue to support those who can access the International Space Station, and want to keep the door open for our future successes."
House Science, Space and Technology Committee Ranking Member Eddie Bernice Johnson (D-TX) also praised the mission on Friday:
"If the promise of the International Space Station (ISS) is to be achieved, it is essential that a reliable and cost-effective means to transport cargo to the ISS be available. Today's successful berthing of SpaceX' s Dragon capsule to the ISS is an important step on the path to demonstrating operational commercial cargo transport support for the ISS. I want to congratulate NASA and SpaceX and their dedicated and talented employees on this significant accomplishment. I wish SpaceX and NASA continued success with this cargo demonstration flight and look forward to the successful return of the unmanned Dragon capsule. I also look forward to Orbital's own upcoming demonstration flight."
Also commenting was Space and Aeronautics Subcommittee Ranking Member Jerry Costello (D-IL):
"Congratulations to both SpaceX and NASA for showing that American ingenuity and innovation are very much alive. The ISS is a unique platform that will help us do the research necessary to enable the next steps in space exploration as well as benefit life here on Earth. But in order to use the ISS, we need reliable cargo transportation to bring supplies and return research samples. Today's
milestone by SpaceX and NASA gives me confidence that such a capability is achievable."
Richard M. Jones
Government Relations Division
American Institute of Physics
[email protected]
301-209-3095