"A Healthy Future" Commercial Space Forum Speech by J. Randolph Babbitt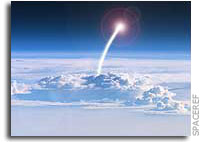 Remarks as prepared for delivery
Good morning, and thank you, George [Nield].
Sometimes, it's kind of fun to look way back to those old news reels of the early pilots willing to take a chance on the first steps in aviation. They were the ones who blazed the trail that we still follow today. The commercial space arena has a bit of a different twist: First of all, the grainy news reels are in Hi Def. And the trail that's being blazed has fresh tracks on it. For commercial space, if you want to see the "early" trailblazers, look around this room right now. You are taking ideas and concepts that are still getting their sea legs and you're creating an industry that by all accounts has a tremendous future in store.
First, let me provide some context. In 20 years, we've had 200 licensed commercial launches. No fatalities, no extensive property damage, no injuries to the uninvolved public. Those of us who've been around for a while know that the only way you rack up those kinds of successes is that everyone is pulling in the same direction. Everyone takes personal responsibility for safety, from design to launch pad, from liftoff to touchdown.
These numbers are not the hallmarks of people who are going from concept to launch pad in a day. Rather, we're looking at entrepreneurs, business people who really do mean business. They understand there are still enormous risks inherent in both human and unmanned spaceflight, but they're willing to invest significant time and money to make each launch as safe as possible for the people on the ground as well as anyone on board.
Commercial space is page one above-the-fold and the President's budgetary plans are going to keep it there. You'll hear more from Administrator Bolden tomorrow, but commercial space just got a huge boost budget-wise. On another front, just yesterday there were 150 people gathered right here to learn about the FAA's center of excellence in commercial space transportation. Separately, those events are the kind of signals you look for in any business. Put them together, and you've got all the makings of a grand slam. Personally, I don't think it's going to stop there.
Commercial space has been making a name for itself for quite some time. Even before the good news I just mentioned, commercial space was making headlines because of space tourism. I'll be honest with you — hearing the captain say, "There's a spectacular, close-up view of the moon for passengers seated on the right side of the spacecraft" well, that's something I'd like to hear in person. The idea of seeing the curvature of the Earth is downright tantalizing. Weightlessness used to be reserved for a pretty small circle we called "astronauts." Not any more.
Right now, I think we are on the very brink of commercial human space flight and regular sub-orbital space tourism. Congress helped pave the way with legislation that allowed us to issue experimental launch permits that have spurred research and development. The Hill also outlined passenger safety steps with the "informed consent" approach. Now, the deal-breaker may just be the cost of a ticket. I hear numbers like 200 thousand dollars and that's an awfully pricey ride. But I think all of us expect that's going to come down and that the future of this industry will continue to evolve, just as aviation did.
The FAA's Office of Commercial Space is working with a half dozen companies right now who are all trying to build vehicles that can do the job. Beyond tourism, on the business-end of the equation, looming large is the retirement of the space shuttle. It's clear that the future of the International Space Station and other space initiatives will rely heavily on the success and growth of this vibrant new industry all of you are involved in.
Companies like SpaceX and Orbital Sciences are getting in line to show they can do it. And I am pleased to see that some states and communities around the country — in New Mexico, Oklahoma, California, Florida, Alaska, and even nearby Virginia — have embraced the commercial space industry by building spaceports. In this difficult financial climate, they understand that attracting the businesses that support this effort is an investment with enormous economic potential.
But with all this said, as the regulator of an industry that's making great strides, it's incumbent upon me to underscore a foundational principle that must accompany each advancement: safety.
At the end of the day, whether the purpose of the mission is business or tourism, safety needs to come first. We know from the hard lessons of aviation that a safety record is maintained only through vigilance and professionalism. If the commercial space industry is going to be a viable, enduring form of transportation, it must continue to take the same overall approach to safety that is used by commercial and general aviation.
I see that happening. Burt Rutan at Scaled Composites and Richard Branson at Virgin Galactic are big believers in safety. They've done some amazing things in terms of building safe, reliable, cost-efficient vehicles. And I assure you, we will be there at each step. Folding commercial space into the Federal Aviation Administration was a smart move. If you're talking about launching an industry that's going to use commercial airspace on its way to an altitude of 62 miles, you need to be concerned with the airliners and the general aviation aircraft that are criss-crossing the flight levels in between.
The coordination for launches has to involve air traffic, and the command center, and airports, and the military — and that's all before takeoff. We license every commercial launch. We make sure that the regulatory framework is there to create a stable foundation. When Congress allowed us to issue experimental launch permits — analogous to experimental airworthiness certificates — that was a boost to research, development, and testing. People could fly, test, look at the data, and tweak as needed. These permits aren't to make money, but they do get rid of the bugs that stand between the entrepreneurs and the ability to make a profit. The Commercial Space Launch Amendments Act is another example of this country saying that commercial space is a good idea.
The Ansari X-Prize proved that there is real interest in all this. As a pilot, I'm eager to see what commercial space gives us in the longer term. Several decades of spaceflight have produced quite a return. For example, the way we approach human factors. Space travel literally forced us to take a much closer look at the human and the machine. Consider heads-up displays, HUDS; you couldn't fly a rocket without one. Our entry into space made 3-D navigation possible. ADS-B — satellite-based navigation — comes from what we've learned through space travel. Without the drive of human ingenuity taking us into new frontiers, we'd still be using the North Star as our primary frame of reference.
In closing, I couldn't be more optimistic about this industry. Commercial space has a track record for achievement and a track record for safety. Given the investments that are being made nationwide, there's little doubt in my mind that business and the taxpayer also see great promise. Count me as one who expects big things from commercial space. I've spoken to you now as a pilot and as a regulator. I'm eager to speak to you one day as a passenger. Thank you.